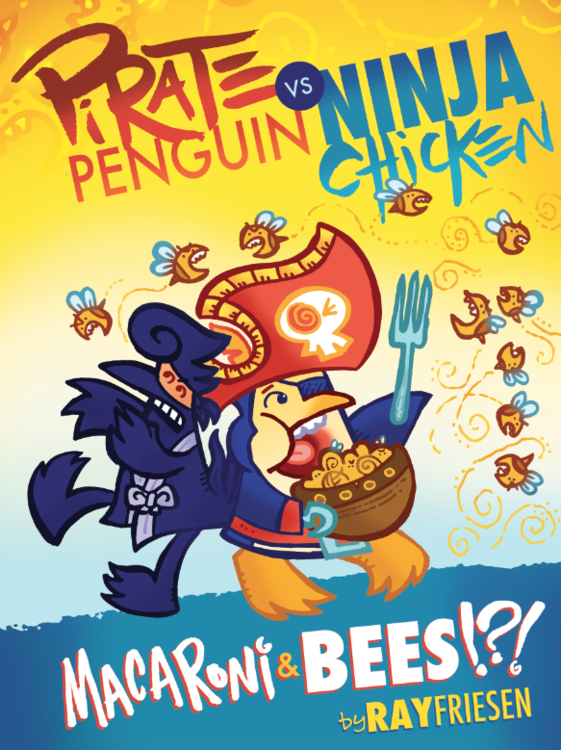 "The funniest friendship in young readers' comics." — ScreenRant
"Ray Friesen is a remarkable cartoonist. He makes the silly funny and the funny sublime. The world seems lighter after reading a Ray Friesen book." — Jimmy Gownley, author of Amelia Rules!
"Ray Friesen is a veritable fount of silliness... Pirate Penguin vs. Ninja Chicken is filled with nonsense, from the copyright page to the comics to the endpages, and it's guaranteed to make your geeklets giggle." — Jonathan Liu, Wired GeekDad
"The humor comes at a furious pace, with sometimes four of five jokes crammed into a single panel. Lots to look at here." — Jesse Karp, Booklist
"A comic book writer/artist of considerable talent and originality." — Midwest Book Review
"The jokey asides and playfully sophisticated take on language are reminiscent of Walt Kelly's Pogo... [a] manic blend of mayhem and adventure." — Ian Chipman, Booklist
"Ray Friesen promises to break new ground in silliness." — Wizard
"The short stories will keep the interest of your most reluctant readers, and the action almost makes it like you are watching a cartoon on TV... Great for fans of Dav Pilkey and Diary of a Wimpy Kid." — No Flying No Tights
You're telling me this pirate is a penguin?? That's not all, buddy. This ninja... is a chicken. And in their THIRD ridiculous book together, they're even funnier than ever!
Your favorite Flightless Fighting Friends, those Bouncy Battle Birds are back! In fact, they never left! They've been standing right behind you this whole time! But in a fun way, not a creepy way. Don't turn around. Or do! I'm not the boss of you.
Pirate Penguin vs Ninja Chicken (Book Three): Macaroni and BEES?!? contains:
-- A big pile of random comics on important topics such as werewolf shampoo, frivolous time travel, and anti-gravity popcorn
-- Absolutely no Macaroni OR Bees
-- The Top Secret Long Lost origin story of Pirate Penguin (hint: he's probably from space)
-- AND finally, after all this time, the ultimate versus, to decide who will win the friendship once and for all! (hint: Ninja Chicken)
Also! As a bonus, using state of the art inflatable-origami-technology, this book can transform into over 8 types of hats, to help you express your entire personality through headgear, the Pirate Penguin Way. Note: any folding or inflating of this book may cause it to get ruined forever, but it's totally fine, don't worry about it. -- 64-page full-color hardcover graphic novel, 6.5" x 8.5"
Reviews
---
Related Titles