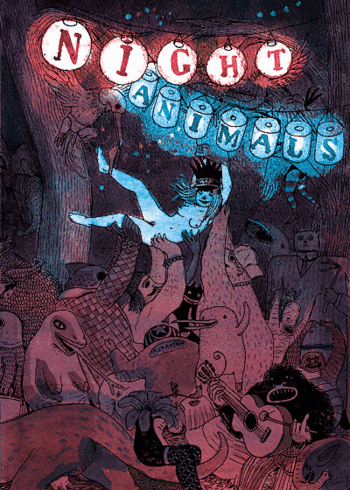 Nominated for the Eisner Award!
Praise for Brecht Evens:
His book The Wrong Place is an official 2011 selection of the Angoulême International Comics Festival!
"When I was in Angoulême last year, the best looking book I found at the festival was Brecht Evens' The Wrong Place... Quite a sight to behold. Evens is really good. And so is the story." -- Frank Santoro, author of Storeyville and Cold Heat
"Brecht Evens' use of watercolors dazzles." -- Tom Spurgeon, The Comics Reporter
"Brecht Evens uses colour to its utmost effect ... The Wrong Place is a phantasmagorical tour de force." -- Bart Croonenborghs, Broken Frontier
Now this international rising star continues to shine, with a deluxe comic book from Top Shelf!
Nominated for three Stumptown Awards (Best Artist, Best Colorist, Best Publication Design)!
"Fantastic. Evens' linework is wonderful... but his coloring is even better." -- Douglas Wolk, TIME.com
"An impressively powerful story... and one that's going to stick in my brain for awhile." -- Graeme McMillan, TIME.com
"A kaleidoscope of lurid detail and beauty... this is by far the best collection of naked parading monsters in the history of print." -- Sean Edgar, Paste Magazine
"I can tell that Evens had a good time drawing this book, designing all of these creatures and imagining their worlds... because it spills off every page." -- Michael May, Robot 6
"Evens makes one hell of an impression without saying anything at all... touching graphic stories that should feel immediately accessible to anyone, anywhere." -- Mallory Gevaert, ALARM
"As a visual object, a pure sense experience, this is very successful work, enthralling and gorgeous in a way not many other comics are." -- Matt Seneca, The Comics Journal
Lush colors, wild imagination, and rich human themes collide in the Top Shelf debut of Belgian cartoonist Brecht Evens (The Wrong Place). Night Animals is a deluxe full-color comic book containing two wordless stories, each a feast for the mind as well as the eyes. Join an innocent young girl as she becomes a woman and learns where the wild things are, then follow a rabbit-suited man as his blind date becomes the epic journey of a lifetime. These gorgeous, bewitching tales are not to be missed! -- A super-deluxe 48-Page FULL-COLOR Comic Book, 6.75" x 9.25", Diamond: JAN11-1339, UPC 094922048837
Reviews