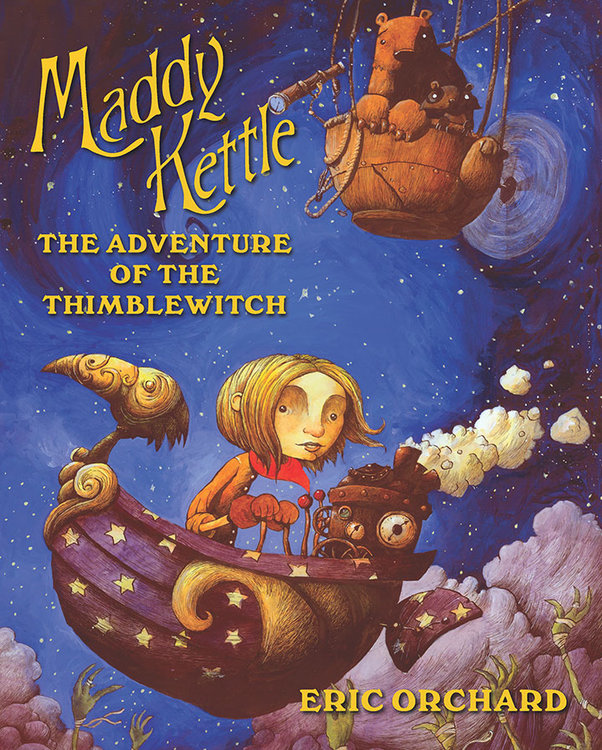 Nominated for the Joe Shuster Award!
A Junior Library Guild selection!
"Maddy Kettle... looks fantastic: every panel exudes quirky, gorgeous atmosphere. " -- Glen Weldon, NPR
"Quirky, beautifully illustrated, and frankly looks like it's going to be an instant classic. Don't miss it." -- Rob Bricken, io9
"A stream of imaginative twists and aerial wonders, flowing along easily in a mix of lucidly drawn action and pithy dialogue." -- Kirkus Reviews
"Orchard, whose artwork looks like a happy combination of Windsor McCay's and Dr. Seuss' art, tells a simple and appealing adventure tale in whimsical images bursting with atmosphere." -- Booklist
"Maddy Kettle is a pure delight, one to share with your younger family members, or better still, read it alongside them. Then go back, wallow in that gorgeous artwork and know this is one of those books you will come back to repeatedly. Simply wonderful." -- Forbidden Planet International
"Maddy Kettle is something entirely unique amongst the current crop of children's comics... [Orchard's] sense of imagination makes each page a joy to examine and should keep all readers engrossed." -- Comics Bulletin
Eleven-year-old Maddy loved working in her parents' bookstore... especially when joined by her pet flying toad Ralph. But that was before the mysterious Thimblewitch turned her mom & dad into kangaroo rats!
Now Maddy's on the adventure of a lifetime. To save her parents, she'll need to sneak past an army of spider-goblins, scarecrow warriors, and much more... Fortunately, an assortment of new friends await, including the cloud cartographers Harry and Silvio, a bear and raccoon who explore the world in their moon-balloon. They'll help her along the way, but in the end, the fate of everyone will depend on Maddy's courage, compassion, and creativity.
Full of surprises and stunning artwork, Maddy Kettle is a truly magical debut for Spectrum-Award-winning cartoonist Eric Orchard. Climb aboard and let your imagination soar!
--a 96-page full-color softcover with French flaps, 7 3/16" x 9"
Reviews