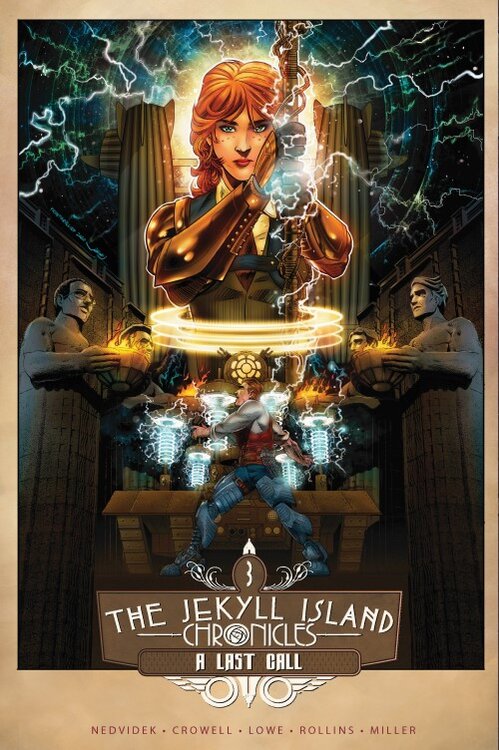 Praise for The Jekyll Island Chronicles:
"An alternative-history steampunk treasure… Consider this historian impressed." — Matt Kim, Inverse
"The Jekyll Island Chronicles... shines a bright light on alternate history in the comic medium with its deep characterizations of historical figures and innovative takes on technology and politics... leaves the reader shivering with anticipation." — Jeff Provine, BlogCritics
"A real page-turner… if you're a fan of the steampunk genre or love alternate timeline history books, this is definitely the book for you." — Jason S. Lockard, Rogue Cinema
"Sharp… Heroism here is not just about might but also about justice, humility, and compassion… this is a fantasy pulled out of a real Southern location with quite the history." — Bulletin of the Center for Children's Books
"The Jekyll Island Chronicles is the perfect balance between the action and adventure of a traditional comic and a historical, painstakingly researched narrative that is crucial to developing critical thinkers in the classroom. It encourages students to ask fundamental questions about a time in our history that is often forgotten or not fully understood." — Glen Downey, Comics in Education
"The Jekyll Island Chronicles brings a rich, riveting realm to life so vividly, I find myself startled (and a little disappointed) to be back in this world when I close its pages. I'm anticipating this third volume more eagerly than anything since a new Watchmen back in the day!" — Rogan Kersh, Provost of Wake Forest University
Cities burn, electricity crackles, and the world hangs in the balance as the award-winning alternate-history graphic novel trilogy comes to a stunning conclusion!
The action picks up where The Jekyll Island Chronicles (Book Two): A Devil's Reach left off: the cabal of anarchists, known internationally as Zeno, have stolen the plans to a Nikola Tesla's Death Ray and intend to build it and use it first on the heroes of Jekyll. Meanwhile, Tesla and his contemporaries Charles Proteus Steinmetz and Henry Ford work against the clock to come up with an improbable chance to render the weapon useless. For their biggest challenge yet, our heroic regulars — mechanically-limbed Peter Karovik, electrically-powered Helen Huxley, high-flying Billy Colfield, and the brilliant cryptologist Solomon Taylor — must build an army of new heroes that join the battle royale on the tiny Georgia island of Jekyll.
With more thrilling science-heroism than ever before, A Last Call completes the Jekyll Island trilogy as the forces of good stand up one last time against those seeking to burn the world.
-- a 192-page full-color softcover graphic novel with French Flaps, 6.875" x 10.435"
Reviews
---
Related Titles