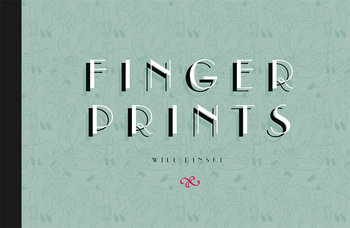 From the winner of the 2009 Isotope Award for Excellence in Mini-Comics!
"Every comic Will Dinski makes is elegantly and cleverly designed." —Rob Clough, The Comics Journal
"In Fingerprints, Will Dinski has succeeded in poking fun at an image-obsessed culture by reminding us that all good things must fade. With its mini-comic style and entertainingly quick pace, this book is equal parts tabloid headlines, soap opera, and absurdist comedy." -- John Geddes, USA Today
"A light, fast-paced story with a pleasing design." -- Booklist
"Both Dinski's art and storytelling beg the reader to dig below the surface, raising important questions about beauty, celebrity, sexuality, art, and superficiality." -- Brian Heater, The Daily Cross Hatch
In a town where movie-star beauty is only a surgery away, it's hard to tell what's real...
A cosmetic surgeon takes pride in his best work: an ingénue of the silver screen, literally built for success. While he plans one last procedure to perfect her looks, his aging wife struggles to keep his interest, and his ambitious assistant threatens his practice with a disturbing new technique.
In his debut graphic novel, acclaimed mini-comic creator Will Dinski presents a haunting pastel vision of beauty, surgery, and jealousy, served with a sci-fi twist. -- A 96-Page, Full-Color Hardcover Graphic Novel, Diamond: JUN10-1133
Reviews