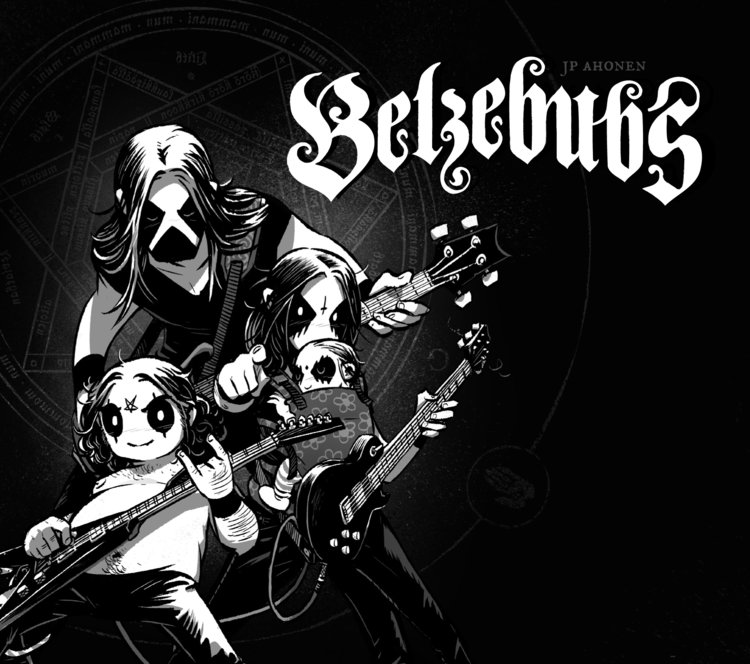 "As twisted as it is sidesplitting… [Belzebubs] weaves slice-of-life drama and mockumentary-style humor into a pentagram of laughs, relatable moments, and a love for black metal." — Publishers Weekly (starred review)
"This webcomic has become a cult sensation... it's a silly, Addams Family-esque family comedy with a perfect cartoony style." — Barnes & Noble (Best of the Month)
"Pure joy… the whole book works as a loving parody of all the idiosyncrasies that make the black-metal scene both wonderful and ridiculous." — Brett Calwood, LA Weekly (Book of the Week)
"Belzebubs strikes that delicate balance between adorable and totally f***ing metal."—Steven Seigh, Talking Comics
"Belzebubs takes the blueprint of the modern nuclear family and gleefully twists it into a counter-culture extravaganza that would make Charles Addams and Al Feldstein grin with delight and throw the horns high... one of the funniest, most instantly relatable and charming books it has been my pleasure to read in many a year." — Tim Cundle, Mass Movement
"Even if you're not a black-metal-loving, corpse-paint-wearing kind of goth, this comic is still for you... Of course, if you are full-on goth (corpse paint or no), you will die laughing... I know I did!" — Sheena McNeil, Sequential Tart
"Belzebubs are your favorite cartoon black metal band." — Kerrang
"They're like Gorillaz, except cooler and more kvlt." — Decibel
"Hilarious, inventive, and original, it's a hard read to put down… Belzebubs brings a really new viewpoint and take on a genre known for taking itself too seriously." — Spill Magazine
Praise for JP Ahonen:
"JP Ahonen is, flat-out, one of the best comic artists and writers working in the world today. His comics are hilarious, action-packed, and heartwarming in equal measure." — Kazu Kibuishi, author of the Amulet series
"A visual sonic boom." — The Village Voice
Juggling work and family can be… hell. Calvin & Hobbes meets Call of Cthulhu as the sensationally popular heavy metal webcomic Belzebubs comes to print in a grim, goofy, and gorgeous hardcover.
Belzebubs is a "trve kvlt mockumentary" focusing on the everyday challenges of family life: raising kids, running a small business, and making time for worship. Except the kids are named Lilith and Leviathan, the business is a black-metal band, and the worship… isn't exactly aimed upstairs.
In a few short years, what started out as improvised social-media doodles has now become a wildly successful webcomic with hundreds of thousands of fans. The irresistible cartooning of JP Ahonen (Sing No Evil) combines relatable slice-of-life humor with over-the-top occult antics and references from metal music to Lovecraftian horror, making Belzebubs a devil of a good time. Featuring an introduction by Becky Cloonan and an afterword by Lise Myhre (Nemi)! -- a 128-page hardcover strip collection (B&W interiors), 6.9" x ~6.1" (landscape)
Reviews
---
Related Titles