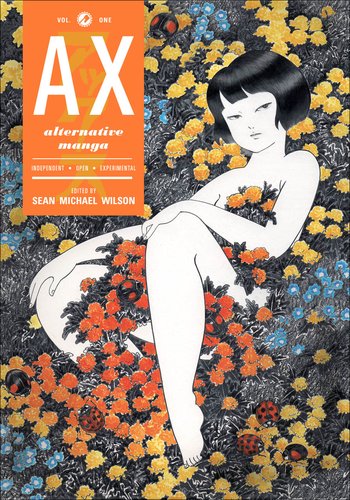 One of Publishers Weekly's Best Books of 2010!
"Within the pages of this greatly anticipated manga anthology are some of the most imaginative, lush, grotesque, and ridiculous comics to come out of Japan... It's an incredible selection." -- Publishers Weekly (starred review)
"This fantastic collection features eye-opening work by 33 representative artists. ... Ax provides... a home for the perverse and the profound. Libraries committed to sophisticated comics collections and to adventurous (mature) readers must buy this volume and those that follow." -- Library Journal (starred review)
"This brilliantly curated, 400-page collection highlights the best experimental Japanese comics I've ever seen." -- Whitney Matheson, USA Today's Pop Candy
"A world's worth of material, this is a book that every serious fan of manga should read." -- Jason Thompson, author of Manga: The Complete Guide
"Top Shelf's release of Ax is a giant leap forward for manga available in English... I got chills reading it." -- Scott Green, Ain't It Cool News
"Ax goes out on a limb where most manga creators dare not go, with an undeniable energy that crackles from almost every page... it will blow your mind." -- Deb Aoki, About.com manga guide
"Within Ax's four hundred pages are over thirty stories that explode everything you might have thought about what manga is." -- David Brothers, Comics Alliance
"One hell of a book... absolutely recommended." -- Joseph Luster, Otaku USA
"It's the art that shines through, ranging from elegant economy to eye-popping maximalism. With its lovely, classical-looking cover and pop-culture cred, you'll be leaving Ax proudly on the coffee table for all to admire." -- Christian Kerr, The Crack
AX: THE CUTTING EDGE OF MANGA!
With an introduction by Paul Gravett, author of Manga: 60 Years of Japanese Comics!
Ax is the premier Japanese magazine for alternative comics, heir to the legendary Garo. Published bi-monthly since 1998, the pages of Ax contain the most innovative, experimental, and personal works in contemporary manga -- the flourishing underground of the world's largest comics industry. Now Top Shelf presents a 400-page collection of stories from ten years of Ax history, translated into English for the first time.
This landmark volume includes work by 33 artists, including Yoshihiro Tatsumi (A Drifting Life), Imiri Sakabashira (The Box Man), Kazuichi Hanawa (Doing Time), Yusaku Hanakuma (Tokyo Zombie), Akino Kondoh, Shin'ichi Abe, and many many more! It's a feast of pure creativity, and a guided tour of fascinating new directions in Japanese comics. Ready for adventure? Then grab your Ax and come on! -- A 400-Page Softcover Graphic Novel with French Flaps, 6 1/2" x 8 1/2", Diamond: MAY10-1136, Adults Only (18+)
Reviews
---
Related Titles