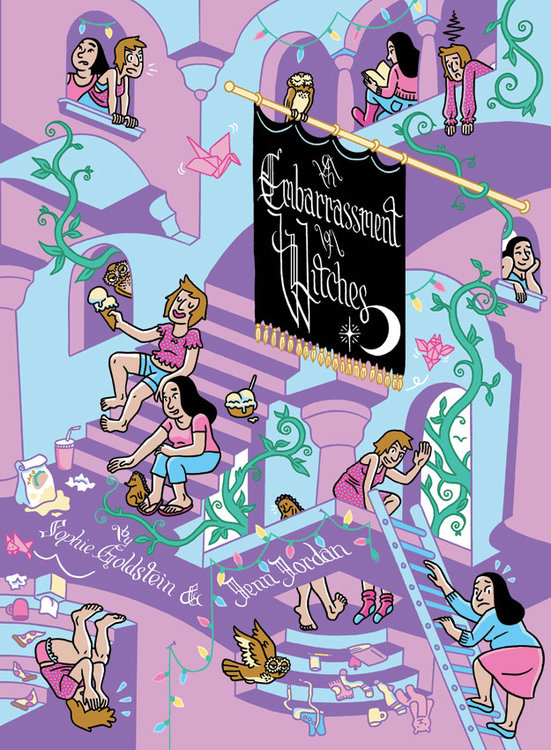 Official selection of the Comix Experience Graphic Novel Club!
Named one of the year's best books by the Publishers Weekly Graphic Novel Critics Poll!
"This affable coming-of-age fantasy... add[s] a touch of magic to familiar human comedy." — Publishers Weekly
"A fantasy grounded in the mundane, An Embarrassment of Witches is a work with magic at its center, casting a unique spell through its memorable, lovable characters." — Foreword Reviews
"Rich and funny fantasy worldbuilding makes this graphic novel about twenty-something post-college angst a charming (pun intended) read." — Faith Erin Hicks (Pumpkinheads, The Nameless City)
"An Embarrassment of Witches is a heartfelt, funny look at how childhood friendships grow up into adult friendships. Goldstein and Jordan give their characters room to make mistakes, change, and learn how to forgive each other (and themselves)." — Melanie Gillman (As the Crow Flies, Steven Universe)
"A great exploration of friendship and how easy it can be to forget what's important to us when we are angry, lost and scared. How important it is to just talk to each and say how we really feel. I haven't read anything like this before, something so relatable and magical at the same time. I recommend it to anyone who is struggling to find themselves after a big change." — Emily Clark, The Nerd Daily
A coming-of-age urban fantasy set in a world full of animal familiars, enchanted plants, and spell-casting that explores the mundane horrors of breakups, job searches, and post-graduate existential angst.
Life after college isn't turning out exactly as Rory and Angela had planned. Rory, recently dumped at the gate of her flight to Australia, needs to find a new life path ASAP. What do you do with a B.A. in Communications and a minor in Southeast Asian Spellcraft? Maybe her cute new housemate Guy is the answer she's looking for (spoiler alert: he isn't).
Meanwhile, Angela is buckling under the pressure of a high-stakes internship in a cutting-edge cryptopharmocology lab run by Rory's controlling mother, who doesn't know Rory is still in town… and Angela hates keeping secrets.
An Embarrassment of Witches is the story of two childhood friends learning how to be adults—and hoping their friendship can survive the change. -- a 208-page, full-color softcover graphic novel with 3" French Flaps, 6.25" x 8.5"
Praise for the authors:
"Sophie Goldstein's artwork looks very simple, but it's the kind of simplicity that's complexity boiled down to a potent concentrate." — The New York Times
"Strong and complex." — The AV Club
"Perfectly paced; the subtleties within demand re-reading." — Publishers Weekly
"The apocalyptic climax of the strip manages to combine the character work, the mythological work and the snarky modern take on same together into a beautifully satisfying and cohesive package." — HighLow
Reviews