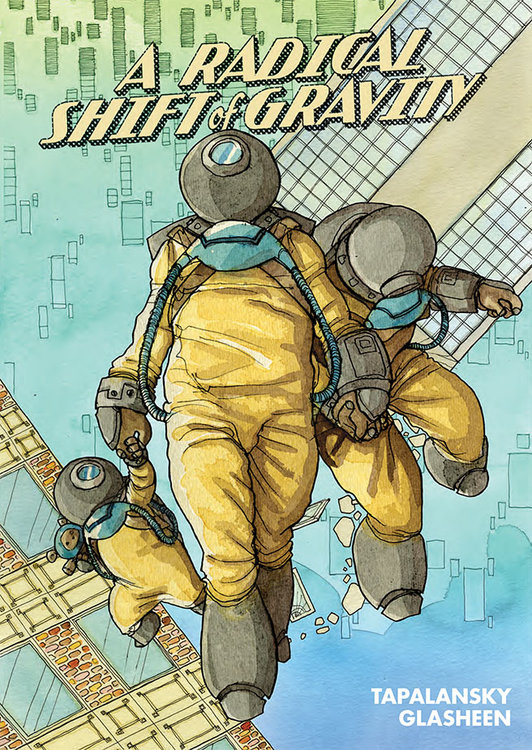 "This beautiful book is very smart about global catastrophes and very honest about personal ones. For everyone asking 'How can we raise a family in a world like this?', A Radical Shift of Gravity offers a powerful answer." — Jeff Lemire
"Ingeniously structured... a remarkably moving parable that captures the particular uncertainty of 21st-century life." — Library Journal (starred review)
"A deeply moving examination of how time, evolution, and human love (and stubbornness) can interplay and overlap in an emotional context. It's deep, meaningful, and affecting." — Fanboy Factor
"Nick Tapalansky is one hell of a writer. Kate Glasheen's art is stunning… This is a heartfelt story that is personal and thoughtful. It is highly recommended. A great work of art. Rating: A+" — Forces of Geek
Against the dreamlike backdrop of massive planetary transformation, this stunning watercolor graphic novel explores one family's struggle to stay grounded.
The world is changing. Gravity, a force everyone takes for granted, has begun to disappear. As a young journalist, Noah spends his days documenting the wondrous and terrifying shifts in the world around him.
But Noah's life is changing, too. Falling in love and raising a rebellious daughter adds new meaning to life in this mysterious floating world. As he covers the invention of new sports, interviews experts, and even journeys into space, each experience shapes how Noah views the world and, in turn, his relationship with his family.
And as his daughter grows older, Noah faces the challenge every parent dreads and dreams of: letting go.
A Radical Shift of Gravity is a science-fiction fable: a graphic novel that explores the ties that bind a family together, the forces that threaten to pull them apart, and the quiet beauty of a world where everyone is floating away. -- a 224-page, full-color softcover graphic novel with 3" FF (6.5" x 9.25")
Reviews