September 18, 2014
Y'know, it's just not in this bartender's nature to toot his own horn. I've always believed that to a great extent, the work we shepherd into the world, in conjunction with amazing craftsmen, cartoonists, and storytellers, should speak for itself. And i still still do.
Be this whole $3 Sale?... are you kidding me? Who the f*ck has sales this awesome? This discounted? This cheap? Brand spanking new front-list tiles are HALF OFF! Seriously?
And then we have some absurdly cost effective deals for you, our dear fans and readers. Essex County and Infinite Kung Fu, for 10 bucks each! That's almost a thousand pages of incredibly well-conceived and produced comics for $20... that's 2 cents a page, people!
And how about our $3 titles... Jeff Lemire's heart-wrenching Underwater Welder. THREE dollars!
How about this underrated GEM: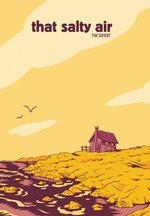 That Salty Air, by Tim Sievert. Tim had made a rough version of this book as a school project while attending MCAD. (Minneapolis School of Art and Design.) I was blown away, when Kevin Cannon (Far Arden and Crater XV) showed it to me years ago, and when i asked Tim if he could expand it into a more-or-less feature length book, he knocked it out of the park. At turns tender and sweet, other times harsh and brutal,That Salty Air is a stellar example of the type of book we've longed to produce at Top Shelf; filled with heart and subtext, diving into and explore what it means to be human. I cannot recommend this book enough.
A few other people felt the same...
"An amazing, strong, well-paced graphic novel about relationships and what we must be do to keep them on course while we are submerged in the complexities of life."
—Booklist (starred review)
"A confident debut that portends more good things to come from this creator ... Sievert has fused tragic loss with imagination ... It's a beautiful thing."
—Web Behrens, Playboy
"A deeply felt parable for the author, and one that can touch anyone faced with the inexplicability of loss." —Paul Gravett, Author of Graphic Novels: Stories to Change Your Life
"An example of comics at their most literate and intelligent."
—Kevin Church, Comic Book Resources