June 5, 2014
The deadline for Eisner voting approaches, so i reached out to the Top Shelf family members currently nominated for awards. Learn more about the awards here.
I asked Nate Powell a few questions last night, and he happily obliged. Nate won the Eisner Award a few years back for Best Original Graphic Novel — kind of a combo of Best Film and Best Director in the Oscar awards -- for Swallow Me Whole. (I was at the awards ceremony… it was awesome!) One thing i really love about Nate, besides that he's a workhorse, is that he's always tinkering on and improving his website, http://www.seemybrotherdance.org. Check it out. Nate's also on Twitter…
And in case you sleep under a rock, or in a sock drawer like Ralph Wiggum, Nate has been gaining lots of accolades for his stellar work on March: Book One, with Congressman John Lewis and Andrew Aydin. March recently won the Robert F. Kennedy Book Award -- Special Recognition! It also got a glowing endorsement in Oprah's magazine!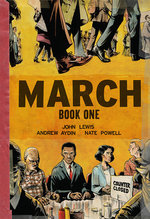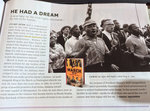 Brett: What's new, Nate? Anything really offbeat and rad happening in your life? Been to any comics conventions or events?
Nate: The next two years are a solid wall of work and parenting. A lot of discipline has been required to stay on top of the tight deadlines for the rest of the March trilogy, as well as any other projects. I've had to cancel most of my events for the rest of this year in order to finish March: Book Two in time, but have managed to attend S.P.A.C.E. in Columbus, OH and TCAF in Toronto thus far in 2014, as well as Congressman Lewis' commencement address at my alma mater, School of Visual Arts in NYC, last month. I'll be at San Diego Comic Con, Small Press Expo, and New York Comic Con this year, as well as several March-related events and presentations at a number of schools around the country. From August through November, original artwork from the first two March books and The Silence Of Our Friends will be on exhibit at the Billy Ireland Cartoon Library and Museum (the world's largest collection!) at Ohio State University in Columbus, OH.
Brett: How is your daughter doing? Any family holiday plans?
Nate: My daughter is two and a half years old right now, so things have gotten really engaging and intense-- it's been incredible to see her mind develop! We did go to Florida for a couple of days last month, which included her first plane trip, first swimming pool, and first experience at the beach. I wouldn't call it a vacation though, as I still had to work each day, whenever possible.
Brett: What're the latest books of yours that are out and/or forthcoming?
Nate: Well, last August marked the release of March: Book One, and working together with John and Andrew continues to be exciting, rewarding, and challenging. I don't think anyone on the team ever expected for the book to have taken off to the degree it has, and are amazed to see it embedded in a much larger social conversation. Lots of other work has been going on: a short horror story with the fantastic Scott Snyder for the IN THE DARK hardcover anthology (IDW) just came out, some pinups for Ed Piskor's HIP HOP FAMILY TREE, Tom Neely's HENRY & GLENN FOREVER & EVER, and Katie Skelly's OPERATION MARGARINE, a Nemo comic for the LITTLE NEMO: DREAM ANOTHER DREAM anthology coming from Locust Moon Press, several album covers, and a new short story collaboration for an Italian anthology published by Rizzoli Lizard. While drawing March: Book One, I also drew a graphic novel adaptation of Rick Riordan's HEROES OF OLYMPUS: THE LOST HERO (written by another Top Shelfer, Rob Venditti), that'll be out in October from Hyperion Books. Early next year, Top Shelf will release March: Book Two and YOU DON'T SAY, which collects all of my shorter comics work from the last decade, starting with PLEASE RELEASE. It has a bunch of out-of-print comics, some new and unpublished ones, and a number of stories that have only been available in French or Italian publications.
Brett: Can you talk about any stuff you're currently working on for down the road?
Nate: Sure thing! I've had to put my own graphic novel work on the back burner for the last several years in order to go on the MARCH journey, but as soon as Book Three is complete I'll be diving into my next solo book, COVER, which is an exploration of privacy, intimacy, and secrecy, set against the backdrop of a small Ozark mountain community in late-70's Arkansas. That'll be coming out in 2017 from Top Shelf. Scott Snyder and I are planning to do another collaboration to be released digitally, but that's still in early stages. I'll also be doing a series called TWO DEAD with writer and Top Shelfer Van Jensen-- it's a true-to-life psychological hard-boiled detective story that took place in 1940's Little Rock. More details on that are coming very soon. There is also work happening on some books in possible development for the big screen, but it's too early to reveal anything on those yet.