July 19, 2013
In case you didn't know, ComicCon is in full swing. And while your humble bartender won't be serving drinks there this year, you can still mosey up to our booth and chat with any number of our swell staff and cartoonists. Did you hear that no less than Congressman John Lewis is there? That is amazing. (Also, Andrew Aydin, Jeffrey Brown, Rob Harrell, Mark Russell and Shannon Wheeler, Zander Cannon, and wow, lots more.)
We've also got a big digital comics sale happening too! If you prefer the glow of your screen to the smell of ink, there's loads of killer comics to choose from.
In amongst the deals to be had, is the debut of Chris Sheridan's wicked cool The Motorcycle Samurai, which starts serialization now! This is almost more fun than should be allowed.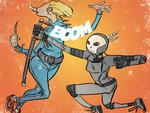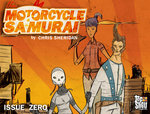 • Exploring A Crisis Of Faith With Confessional Comics. Jody Arlington reflects on Jeffrey Brown's new memoir A Matter of Life, at NPR.
And here's Jeffrey talking with Jason Heller at A.V. Club.
"...Did I mention that Brown's work is hilarious? That you will smile and laugh throughout? That you'll be inspired by the Brown family's goodness and gentle relationship with each other and the world? Reading this is a joy. Rereading it is, too."
• March keeps getting the big props. Here's a real nice one from no less than Publishers Weekly.
"Superbly told history."
• Tim Sievert rocks a bad-ass Prince Valiant!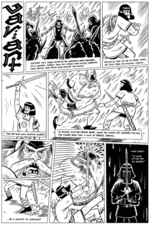 • Ace storyteller Jeff Lemire has scored two Harvey Award nominations this year, for his stellar graphic novel Underwater Welder. Too freaking cool, and well deserved.
• Matt Bors talks with CNN about his book, Life Begins at Incorporation.