Kochalka! Kochalka! Kochalka!
April 14, 2013
Yeah, that's right... James is all over the place. I'm most excited about James coming to Portland in the next couple weeks as a guest of the Stumptown Comics Fest. (He's even going to do a mini workshop & reading with my son's 2nd grade class! Yay!)
There's two new episodes of SuperF*ckers! at Cartoon Hangover.
If you've never read the comics the cartoon are based on — and you don't offend easily — there is no better time that the present to rectify the matter. Buy the collected edition pronto!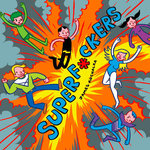 • Here's a link to James' most recent miniature paintings at a recent Giant Robot show had called 'Facial Recognition' (with Matt Furie and Mark Todd).