SuperF*ckers!
November 29, 2012
Folks, i've gotta say i'm getting really really really fucking stoked for the launch of James Kochalka's insanely funny SuperF*ckers on Cartoon Hangover! James has been busting balls, as evidenced by this outstanding interview at Verbicide Magazine.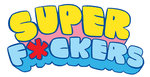 I know this has been trotted out in dozens of places, but if you haven't seen the trailer yet, feast your eyes!

• Also, make sure to read this terrific David Lasky interview at The Comics Journal. He talks about his new book The Carter Family, and also name-drops myself, and my attempts to coerce him in publishing a Boom Boom Omnibus.