leaving for APE in the morning... again? already? wow...
October 14, 2010
• Our own Leigh Walton made it out to Nate Powell's wedding reception this last weekend. Here's what he had to say, and a picture of Leigh and Nate. Congrats Nate!
"Really fun!... Nate's mom was THRILLED to see me... had great food & drinks, and did a little dancing. When Nate's buddy who was in charge of music had a hard drive failure, I sort of had to come to the rescue and play DJ with my phone, but everybody seemed happy (except the kids who kept asking to hear Eminem)!... Then he & Rachel went to Mexico for a week."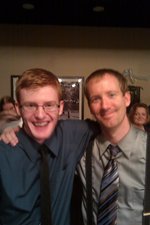 • Matt Kindt love going around... Matt Kindt is St. Louis' Best Cartoonist!
• Henry Chamberlain put together an amazing 24 Hour Comics Day to celebrate the annual event, with a mighty crew that included Jennifer Daydreamer, Henry Chamberlain, Randy Wood, Tom Dougherty, Eroyn Franklin, Stefan Gruber, David Lasky, Sean Robinson, among others.
• I sure do love Jack Black.

• Gorgeous animated short called "Indians." (From Cartoon Brew)...
"Colored pencils, cut-outs, and graphite pencil are eloquently blended in "Indians." The folk art mixed-media approach does a nice job of evoking warm autumnal feelings. It was made by Louise Cailliez at ESAAT, a French school in Roubaix." —Amid Amini

INDIANS from Louise Cailliez on Vimeo.
• I noticed something cool while flipping through the recent Diamond Previews, which was reinforced today at my LCS when i stumbled across the new issue of Wolverine (#2?)... long-time comics artist Jae Lee is banging out some incredible f*cking covers for Marvel these days! Now, i've been a fan of Lee's work going waaaay back to his run on Namor in the early 90s. But this recent series of covers are truly gorgeous. (Now that i'm paying attention, i'll be tracking these babies down. Wish i could have an art book of this stuff.)