breathing a sigh of relief...
July 29, 2010
ComicCon is now again in the review mirror. This year, for whatever reason, i was really zen the whole trip, after a depressing Thursday. (Staying mostly sober might have had something to do with this.) In any case, i had a great time.
We had a boatload of peeps at our booth. And it was hoppin' all weekend.
Matt Kindt pressing flesh. (And two con sketches.)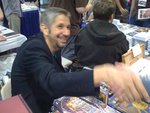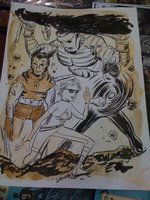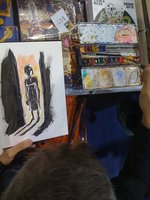 Jeffrey Brown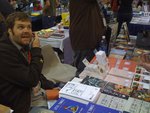 Nate Powell, pimping last year's Eisner Winning Swallow Me Whole.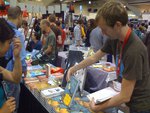 James Kochalka Superstar! (With Kathyrn and Stuart Immonen in the background.)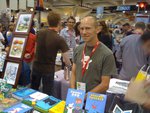 Surrogates team Brett Weldele and Rob Venditti.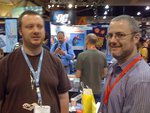 Sean Michael Wilson selling a copy of AX to Maeby (Alia Shawkat) from Arrested Development.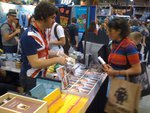 • Here's me and some droid friend of R2D2. (Who IS this green R2 unit?)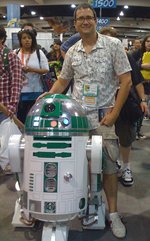 • James Kochalka made it back to ComicCon! Here are his fabulous American Elf strips from the show.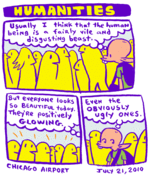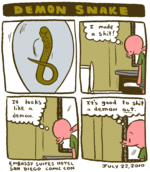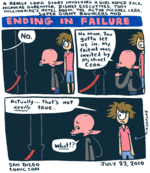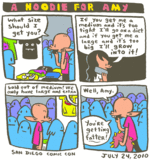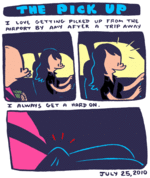 And with release of his SuperF*ckers collected edition, i thought this would be a great time to trot out the Super Awesome theme song video.
We're always in our clubhouse getting high
SuperF*ckers!
Everybody wishes we would die
SuperF*ckers!
Here we come
like a bomb
everybody run and hide!
Our dicks are stuck in the Playstation 3
SuperF*ckers!
Everybody wishes they could be
SuperF*ckers!
Here we come
like a bomb
Everybody f*ckin' run and hide!
• Henry Chamberlain posted two video blogs on Top Shelf at San Diego for CNN. (Thanks, Henry!)
• Talked with Emily Brundige, who turned me on to her terrific student short film, Pubertina.
Pubertina from Emily Brundige on Vimeo.
• Jim Demonakos (he of Emerald City) gave me the new Kirby Krackle cd... yet more fabulous nerd pop-rock, sporting another sweet cover by the great Jim Mahfood.
[Debut disc.]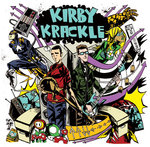 [New disc.]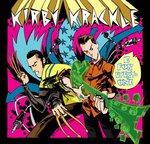 Dig on their music vid for "On and On."

• Speaking of Jim Mahfood, here's some snaps i took at the live art party at Soda Bar, sponsored by Things From Another World and Nerd City, featuring the work of Jim, Scott Morse, Mike Huddleston, Ray Fawkes, King Gun, Jason Shawn Alexander, and some really cute talented girl they didn't list in the press kit.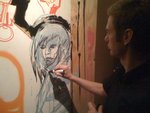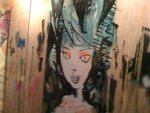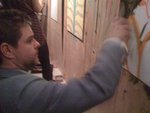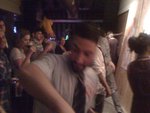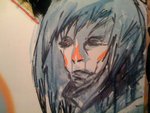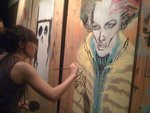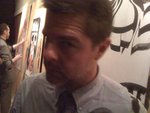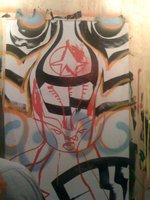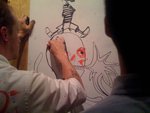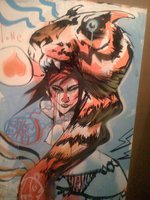 • Here's a beautiful site — the keg room at The Yard House at 4th and Broadway. Mmmm... beer....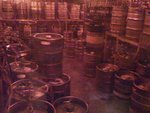 • And finally, the last people standing in our neck of the woods on the floor, were the always delightful Mike & Janice of Fantagraphics.