windy city fun fun fun
September 10, 2009
Well Chicago was a real hoot this past weekend, as Chris and myself met to attend Jeffrey Brown's wedding reception. It was a treat to meet and enjoy fine conversation, food, and beverages with Jeffrey's parents, brothers, friends, and of course his lovely new wife Jennifer. (I only wish wee lad Oscar could have been there.) Cartoonist Paul Hornschemeier was on hand to give the groom a toast, and it must have been one of the funniest i've ever witnessed. If he weren't such an amazing cartoonist, i'd suggest he do some stand-up comedy.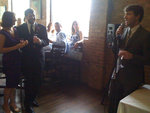 Also, the streets and billboards were littered with gigantic Surrogates images, and in fact, one could be seen out the window from the bar at the swanky restaurant Avec where Chris i had an amazing dinner. Thanks to Anders Nilsen's food writer wife Heather for the tip!
Here's Chris strolling through the restaurant after a sublime meal. Note the Matrix back wall, which is a lattice of empty backlit wine bottles.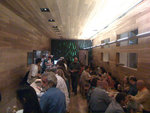 And here's the huge billboard we could see from the bar.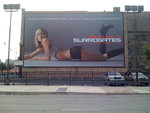 We got to see lots of our cartoonist friends over the weekend, including Aaron Renier, Jeremy Tinder and his girlie Rachel, Laura Park, and Grant Reynolds. One night these cats and a boatload of friends rented a private karaoke room, wherein in popped my karaoke virginity, feebly attempting renditions of the Stones' "Jumping Jack Flash," and Earth, Wind and Fire's "September." (Which coincidentally was on the very first record album i ever bought with my own dough.) These kids were on FIRE i tell you! Here is Grant (on the right) getting the fuck down.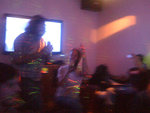 Finally, Chris and myself spent the entire last day sequestered in the hotel restaurant plotting and planning out the 2010 publishing schedule. This is no easy task i might add. Even in "good" years this takes loads of deliberation as we try to navigate the murky and unstable waters of small press publishing. But in a totally shit economy, even two or three consecutive bad months could potentially cause serious blows to the our company. All in all, i think we'll have some great stuff coming out. More later.
• My pals at Tender Loving Empire here in Portland have some great things happening. Here's some art to feast on and a url link you can follow to learn more.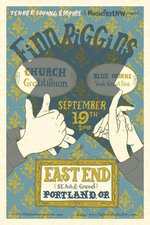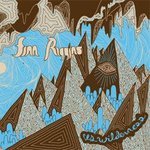 • Shannon O'Leary is working on a new comics anthology called The Big Feminist BUT, and was recently interviewed in Bitch mag!