isotope award for excellence in mini-comics
August 14, 2009
It so happens that besides having a world class comics shop Isotope Comics, James Simes' store also hosts the annual Isotope Awards ceremony, the Saturday night of APE. (That's Alternative Press Expo, y'all.) It's a fucking hoot of a party. In fact, for several years running i've been a guest bartender during the first couple hours of the event [usually too hammered to mix a decent cocktail after that] with my beautiful mix-master cohorts Kirsten Baldock and Adrienne Rappaport.
AND it also so happens that i've been chosen to be one of this year's judges, alongside the aforementioned Kirsten Baldock, as well as Tom Spurgeon, and Eva Volen. What an honor.
Again, submissions are open, kids!! So send your mini-comics in pronto!
• Also, in case you may not have heard, our graphic novel Surrogates [by Robert Venditti and Brett Weldele] was made into a movie, which is coming our forthright!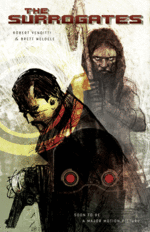 Posters are starting to make the rounds. Whoo hoo! This one was snapped by my buddy Gregory Benton.