April 22, 2009
Center for Cartoon Studies... the gift that keeps on giving. Yet another student knocks my socks off with this terrific art by Laura Terry. From top going clockwise, that's Chris Duffy (Nickelodeon), Calista Brill (First Second), me, and Peggy Burns (Drawn & Quarterly).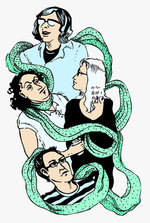 Wow! Beautiful.
Oh, and here's a terrific pic from Jen Vaughn's photo set on Flickr. Calista, myself, and Chris.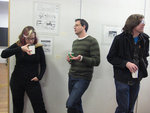 • My pal Michael Martins informed me that another pal Denis Kitchen will be curating an art show called Underground Classics: The Transformation of Comics into Comix, 1963 - 1990, from May 2 to July 12 at the Chazen Museum in Madison, WI. Opening reception and curator's conversation is Friday, May 1.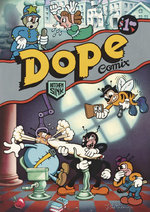 • Top Shelf 2.0 contributor John C. Ralston's strip "The Hole In The Wall" is now available in print!!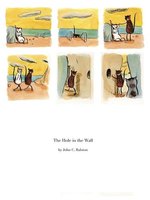 • Scott Allie's son Sid and my son Carter on a tear at Stumptown this last weekend. Yee haw!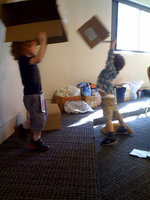 Also at Stumptown Craig Thompson took this snapshot of our terrific new intern Emi and Jeff (Bone) Smith.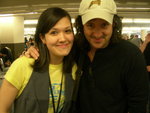 • Now, off to Sweden with Chris Staros and Jeffrey Brown.