ouch... sorry for the delay.
May 1, 2008
Stumptown is come and gone once again, and continues to improve every year out. Kudos to Indigo, Cosmic Monkey, and the entire amazing force that organizes this show, which grows in stature each time out. The vibe was terrific and the venue fabulous.
Tim Sievert made it out from Minneapolis to represent at the Top Shelf table, while Liz Prince came out from Boston to promote her new Top Shelf book Delayed Replays. She had her own table and was selling some nifty new t-shirts. Hometown boy David Chelsea had his own table as well, and was pimping his hot-off-the-presses 24 x 2, which collects two of his ten 24-Comics efforts.
My old pal Garret Izumi was our neighbor (along with Scott Mills), and took these snaps. (This one at the table has Timothy on the left and me on the right.)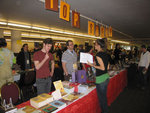 This one outside my favorite restaurant ever, Taqueria Nueve. Not only is the food incredible, but they make the best margarita in the cosmos. Better even than my own! (Gasp!)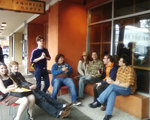 The Saturday night event at Cosmic Monkey was so freaking crowded, i literally couldn't make it ten feet into the large cavernous space. Hot, sweaty, and surrounded by comics. So i grabbed Timothy, and we headed to the Candlelight Room up by PSU downtown, and we danced our asses off to my new favorite local band, The Strangetones.
These cats rock so hard i can't stand it. Rootsy, roadhouse blues, and world-class musicians. Their act is tight as hell, Suburban Slim kicks out the jams like there's no tomorrow, and if you catch them on a good night, they might have the mondo-sexy Volcano Vixens doing their GoGo grooves alongside the band.
Flush with dough from the convention floor, i picked up their last two cds and i'm happy to report that they rock just as hard. Please, if you dig smokin' blues, listen to the samples on the website, and if you dig what you hear, pick up one or both of their recent albums, Crime-A-Billy and We're On Our Way.
• Ganges #2 is out, and while it lacks the emotional charge that author Kevin Huizenga's comics usually do, it's still a formidable comic, and as per usual, a triumph of formalism and comics mastery. The titular hero works at a dot.com company a decade ago, and he and his office drones addictively play violent user-to-user video games after hours. The set-up to the story is one of the most visually arresting sequences i've ever seen in comics, being a sort of psycho-spiritual video game battle. Again, i miss the usual human pathos that Kevin can bring to the plate, but this issue, like most of his work, sticks in my brain-pan long after i've finished it.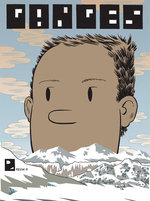 • Here's some teaser art for Jeff Lemire's forthcoming original graphic novel with Vertigo.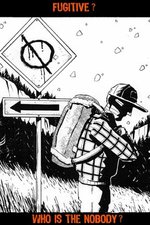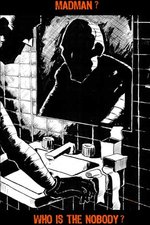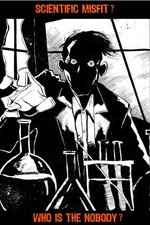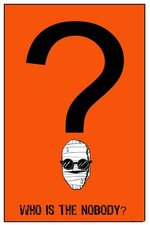 As described to me by Jeff:
Large Mouth, a tiny, isolated northern fishing town, didn't see much excitement. That is until an odd Stranger, wrapped completely in bandages, and wearing strange goggles, arrives in the sleepy town one day, taking up residence in the local motel.
Driven into a curious frenzy by the mysterious visitor, the townsfolk quickly learn the tragic story of his past, and of the terrible accident that left him horribly dis-figured and alone.
Eventually, Large Mouth welcomes the Stranger as one of their own, giving him the fresh start he never thought possible. But, as his story starts to unravel, they begin to question whether his bandages may hide more than just scars.
• From the Hickee Crew, superb artist Scott Campbell writes about upcoming events:
CUTE HUNTER. (Solo Show) Secret Headquarters in LA. Saturday, May 3rd. 8-11pm (Runs through May 29th)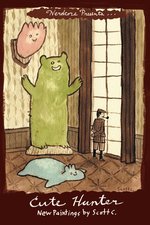 ONE TO GROW ON (Group Show) Gallery 1988 in LA. May 20 – June 1st. Opening reception May 20th.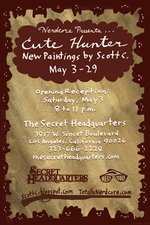 Scott will be posting paintings on his blog.
• Our submissions editor Claire sent this link my way. All i can say is WOW.
• My old buddy Brandon Huigens from Samurai Comics in Phoenix has a new comic available for your viewing pleasure at his MySpace page.
• James Kochalka is signing at Green Brain Comics in Dearborn, MI on Free Comic Book Day.
The Detroit paper Metro Times wrote an article about him, titled Manifest Cuteness, written by mini-comics legend Sean Bieri.