January 31, 2008
• Here's a sweet new piece by Jeffrey Brown, for a t-shirt design promoting Indie Island at Heroes Con in North Carolina.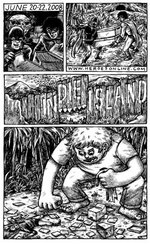 Jeff was also the COVER FEATURE interview subject for the most recent Comics Journal, #287. And there's even a (GASP!) positive review in there for one of our books; none other than Austrian cartoon maestro Nicloas Mahler's delighthful Lone Racer. Whoo hoo!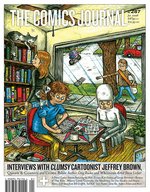 • From the desk of Dylan (Sparkplug) Williams:
"I'm going to be teaching at two workshops on comic books, coming up soon at the Independent Publishing Resource Center. People can come to the first one for free but the second costs (I'll try and make it worth it). Take a look at the IPRC website."
Monday Feb. 4, 7pm
Artist Talk: Jesse Reklaw & Dylan Williams (at IPRC)
Cost: Free, limited space, register
Free presentation from local Portlanders who have made a career out of making the art they love. Each working artist in this series will share his or her own experiences in a specific Creative Field.
Jesse Reklaw is a published weekly comic strip artist (slowwave.com), and Dylan Williams is an art comic book publisher and illustrator (sparkplugcomicbooks.com)
Monday Feb.18, 6:30-9:30pm
Drawing Self-Published Comics (at IPRC)
Cost:$25 members/$40 non-members
This workshop covers the basics of getting your voice out in comic book form, anticipating self-publishing. Learn how to draw with reproduction in mind and many tricks of the trade. The class covers lettering and design specifically as well as basic drawing techniques. We'll be drawing a comic story in the workshop.
Instructor: Dylan Williams
• I may have mentioned this item before. If so, oh well... the new volume of Glomp is out (#9), and it continues to impress. A stunning anthology out of Finland … featuring mostly European cartoonists, as well as American ink-studs Lilli Carre and Anders Nilsen … this little arty anthology that could easily holds its own in this art-brut camp against the likes of old stalwarts NON (which i believe is defunct) and Kramers Ergot, or anything by Picture Box.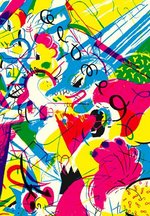 I'm not sure where to buy it in stores, but i do know that we'll have a handful for sale on the convention circuit this year. Get 'em while you can.
• Matt Rota, illustrator extraordinaire, has updated his website. This guys has some delightful chops... worth a look.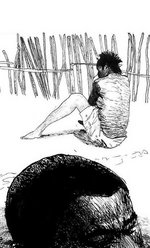 • Lizz Lunney sent me a terrific flip mini-comic called Tofu & Cats/A Dinosaur Tale. I really dig her minimalist (almost Porcellino-like) chops, and her wonderful upbeat stories. I hope we see more of her work.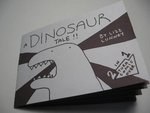 After some googling, i've found that one can order her work from an online distro called Parcell Press.
• Eric Reynolds chimes in as the voice of reason at the Fantagraphics website, on the dubious retailer argument that convention debuts screws them.
• Serbia rocked Aussie Open...
Well, a Serbian won the Australian Open, and while i dig the game of young Novak Djokovic, i was really bummed that his countrywoman Ana Ivanovic couldn't rise to the challenge in her match against Sharapova. Like Novak before her though, i see a superstar on the rise in the beautiful Ana, and predict several Grand Slam titles for her in the years to come.
It was the Men's Final though that had me glued to the television into the wee hours of the morning, on a night no less when i had to get up at the crack of dawn with The Kid. Newcomer and the 38th-ranked Frenchman Jo-Wilfried Tsonga stormed onto the tennis scene with his ace forehand, and an unassuming charm that had the crowd, the announcers, and myself in love with this guy.
Here's a nice piece about Tsonga at the AussieOpen website.
Djokovic was acting kind of like a dick during the match at times, but boy did he regain his own charming form when he accepted his trophy. Well done Novak.
I'm just happy that the killer crusher Federer was NOT present in the Final. This guy has been the undisputed master for several years now, and is rapidly closing in on Sampras for Grand Slam titles... GREAT to see new blood challenging him.