dig-dog bloggity blah blah
December 17, 2007
• Marc Mason has posted a fun Year-In-Review over at The Comics Waiting Room.
• Shawn Crystal drew one of the most bitchin' Fourth World pieces i've EVER seen. (For my Kirby's Fourth World sketchbook, natch.)
DC Comics … what is wrong with you? Current DCU Infinite/Countdown/52 uber-continuity is convoluted and lame. How about teaming up Shawn here with, oh... Grant Morrison or Warren Ellis on some Fourth World action. Big idea guys. Mark Millar (on a good day) or possibly even Peter Milligan. Ditch the frikkin' angst, and make some fun comics again.
Oh well, a fanboy can dream.
• Another gorgeous Holiday card in my in-box, from Michael Golden and Renee Witterstaetter. Golden has been my absolute favorite comics artist forever, beating even (Gasp!) Byrne in his prime. It's boss to see him back in the mix. You can read a fabulous interview with Michael and Renee, by the late great Daniel Robert Epstein, archived at Newsarama.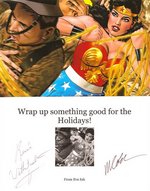 For the love of God, feast on page 35 of the Avengers Annual #10, arguably Golden's masterpiece. Features some sweet inks by Armando Gil.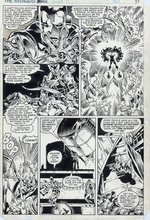 • Finally, some more holiday art from my own archives.
Dean Haspiel