listening as i write to the tasty
July 1, 2007
new record by Queens of the Stone Age, titled Era Vulgaris. If you like your rock fuzzy, guitar-heavy, hook-laden and a little dissonant, then these cats have produced yet another gem just for you.
• MoCCA was, as per usual, a mad crazy aweome comics show. How could it not, taking place as it does in New York City. Any reason to "have" to go to New York is a good one.
I stayed again with Gregory Benton and his lovely lady Florence, in their swank apartment on the Upper West Side. Many many thanks to them both. Lots of beer drinking, soccer watching and good eating to be had. I made trips to St. Mark's Books, Forbidden Planet, more pubs and clubs than i can count, a league soccer match, and of course, the convention itself. I also spent some time getting to hang out with the affable Jeff Lemire, who stayed out a couple nights at Gregory's too. I'll tell you, this Canuck can throw down some serious pints!!
The show kicked ass, but the highlight of the weekend had to be our 10-Year Anniversary party at Gstaadt. We had an amazing cake made by some famous NYC pastry chef (anybody know who this guy is?), an open bar, and a large catered food spread. Piles of thanks to Kristen and Eliza for their hard work getting the whole thing together. At one point the joint was so jumpin' (and roasting hot) that people were spilling out onto the streets. The venue was amazing, the bartenders all hot, and the cocktails delicious.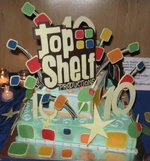 I wish we could do this every year, but … OUCH! … that bar tab was a doozy!!
One fabulous score of MANY at the show was Craig Yoe's choice Life is Short, ARF is Long special edition, a VERY vertical, short run (50 copies) comic featuring art and comics drawn in the same proportion. The little masterpiece measures roughly 5" wide x 14" tall. Viva l'ARF!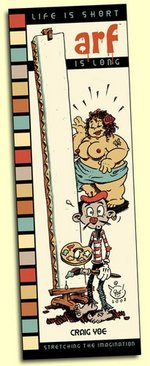 Craig also has a great slide show of pics from MoCCA, on his ARF! blog. Funny and smart captions too.
• Before heading home, i travelled north to Montreal for two nights and three days to visit my pal Patrick Jodoin. (Who's bald head some readers might recognize from the convention circuit in his alter-ego as the rep for Lebonfon Printing.) We tooled around for two days by bicycle, and wow, what a gorgeous city. The old World's Fair Expo Center, Old Quebec, churches, restaurants, Mount Royal, and so much more.
I scored some great French comics (by Gipi, Blutch, and Frederick Peeters) at a small bookstore chain called Librarie Renauld-Bray. I would have loaded up with so much more, had i only the room to carry it. Thank the gods there's no store like this in Portland.
Like Vancouver B.C. and Toronto, the streets were clean, the people were friendly, and with half the city speaking French, Montreal was even so much more European in flavor. (And the way the girls talk... ooh la la.)
Not surprisingly, we drank like fish every night, and traded publishing industry war stories.
On my last day we had the honor of visiting the Drawn & Quarterly offices, and then were treated to lunch by them, eating a yummy Indian meal with Chris (Oliveros), Tom (Devlin), Rebecca (Rosen), Jessica (Campbell), and their intern (from the CCS) Alexis Frederick Frost. D&Q is one of the handful of very key influences that inspired me to become a comics publisher, so this was pretty big to get to visit the headquarters.
• Cute podcast review at Pulp Secret of three recent Top Shelf books, with some fun little skits thrown in. Good editing as well.
• Went out with Steve Lafler to go see a late-nite showing of Hot Fuzz at the Laurelhurst Theater. With Shaun of the Dead in their cap also, it's clear now that the auteur team of (director / co-writer) Edgar Wright and (co-writer / actor) Simon Pegg just "get it."
On the surface the plot is a simple buddy movie / crime procedural / mystery / dark comedy / thriller. What's that?! Like Shaun, Hot Fuzz is a perfectly blended mish-mash of every two-bit genre to ever hit the big screen. Combining bits & pieces straight from (and in loving homage to) classics like Sergio Leone, Rosemary's Baby, Sam Raimi, Helter Skelter, John Woo, L.A. Confidential, Michael Bay, splatter-horror .... whew. It also has a meta-take on Bad Boys II and Point Break thrown in for maximum comedic effect, with a truly perfect scene. All the while there remained an absolute commitment to giving this film its own unique identity.
This on-fire duo have wrestled the mantle of over-the-top genre pastiche from former master Quentin Tarantino's limp hands. (Who's half of the recent Grindhouse was more boring than a fucking Golden Girls marathon … scenes featuring Kurt Russel as Stuntman Mike notwithstanding.)
In the end, what makes these two films so special, are the themes of friendship, honor, and heart, which go mostly ignored by so much of today's "entertainment."
With director Wright slated to direct Bryan Lee O'Malley's phenomenal Scott Pilgrim (published by Oni Press) in 2009, i'm already salivating.
• It's official … my two-pronged hoops fantasy has come to fruition!! We drafted big-man Greg Oden AND dumped over-paid slacker Zach Randolph, both on the same night! Whoo hoo!
• A nifty zine/comic floated my way this week via the Big Pond, and it rocks. Gareth Brookes from London created Mediocralypse. It's an old-school type of effort like i used to read, in that it stretches the boundaries of what you can attempt in a low print-run mini, that you can't maybe with big expensive books. Very much a zine at heart and form.
The chops are great in here too. Everything is really quite nicely drawn.
Check out his website Appalling Nonsense for more info.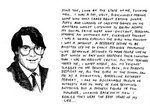 This art here is part of Gareth's contribution to a hit or miss anthology called Banal Pig. His strip is beautiful, and reminds me of Jeff Zenick's work.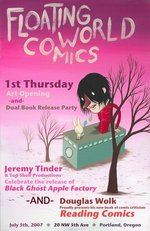 •Â If you're in Portland this Thursday evening, swing by Floating World Comics for the co-book signing with Jeremy Tinder (for his Top Shelf floppy comic called Black Ghost Apple Factory) and Douglas Wolk, for his book Reading Comics.
I'll be there kind of early, because i'll have the kid with me!