May 29, 2007
I'm currently building our house ad for Diamond Previews this month, and while we're listing the long-awaited Elfworld anthology, i don't have as much room as i'd like to run more information on it. So what i'm doing here is lifting this info straight from the Family Style website.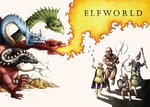 Family Style is proud to be publishing the long-awaited Elfworld Vol. 1 in Fall of 2006!
Elfworld is the brainchild of indie-comics superstar Jeffrey Brown; an anthology of fantasy-themed comics by a wide range of alternative, independent, and self-published cartoonists. Although there was a lot of interest in the comics community and tons of submissions poured in, Brown found himself deluged by his more pressing assignments, and unfortunately Elfworld was put on the back burner for what promised to be an indefinite time.
At last year's Alternative Press Expo, young cartoonist (and member of the Family Style artistic collective) François Vigneault bought a copy of The Basilisk by Kazimir Strzepek. "He told me that he had originally drawn it for Jeffrey Brown's anthology, which was actually the first time I had heard of it," says Vigneault. "My first thought was that I wanted to contribute to it, but then Kaz told me that Jeffrey wasn't ever going to do it, so I had the audacious thought of editing and publishing it myself. I approached Jeffrey and asked him if he was planning to finish Elfworld, and if not, if I could have it. "˜What's your address?' was his response!"
The first volume of Elfworld consists almost entirely of submissions created for Jeffrey Brown's original anthology and selected by François Vigneault. The 96 page, black-and-white book features fantasy-themed stories from over a dozen artists from across the indie-comics spectrum: Jeffrey Brown, Martin Cendreda, Erik Nebel & Jesse Reklaw, Matt Weigle & Sean T. Collins, Ron Regé Jr. & Souther Salazar, Grant Reynolds, Liz Prince, K. Thor Jensen, Jason Overby, Ansis, Dalton Sharp, Jason & Jody Turner, and Dave McKenna. It sports a new, fully-painted cover by Jesse Reklaw, and is designed by Jonas Madden-Connor (another member of the Family Style collective).
The stories range from lyrically beautiful to absurdly funny, and each author approaches the fantasy-inspired subject matter in a unique and often unusual manner; the overall result is a book that is sure to please those who love the fantasy genre outright, those for whom it's a guilty pleasure (old D&D manuals hidden away in their closets?), and anyone with an appreciation for independent comics. "It seems like the perfect time for this kind of project," says Vigneault. "Jonas [Madden-Connor] and I have been working on our own fantasy collaboration for almost a year now, and I feel like I keep seeing new work that has a sort of fantastic bent, everything from Basewood by Alec Longstreth to Crickets by Sammy Harkham. It's like everyone's on the same wavelength."

François Vigneault is currently soliciting submissions for Elfworld Vol. 2 (currently planned for 2007), and Family Style intends to publish another book annually thereafter.
• Rob Vollmar and Marvin Perry Mann are nearing the end of their FREE serialized webcomic, Inanna's Tears, at Modern Tales. It's a tautly written, beautifully drawn period piece set in ancient Sumer. Word is, the free online strip won't be free for much longer, before moving to print with Archaia Studip Press. Now is the chance to read it for nadda, before they start charging for it.
Like Rob said, "if you are interested in religion, women's issues, goddess worship, feminism or ancient history," this story is something you might want to check out.
• Tom Spurgeon just posted the single best San Diego ComiCon Guide of all time, over at The Comics Reporter. Excellent!
•Â More nifty DC fanboy art by Jeff Lemire.
• Last week i read X-Men First Class Special #1, written by Jeff Parker. There's a short story and cover art by the almighty Kevin Nowlan, who, like Michael Golden, i take what i can get, because he's not what one might call prolific. Plus shorts by the fab team of Nick Dragotta and Mike Allred, and one drawn by classic X-Men alum Paul Smith. Best of all (and maybe a hint of things to come when Marvel puts out it's indy-creator anthology), Colleen Coover draws a series of snappy daily-type strips that are a real hoot. If you're as disgusted with the current state of lame X-Men mythos (Peter David's X-Factor notwithstanding), then this is a nice little snippet of old-fashioned fun. I'll totally buy the tpb of the regular series when it comes out. Jeff Parker is on a freaking roll, what with this and his just completed Agents of Atlas hardcover. Go, Jeff, go!
•Â Even though is i've mentioned several times before in this very blog, that George Lucas has turned to the Dark Side in the last 15 years or so, i still worship the original trilogy, and you can bet your ass i'll be watching this on Wednesday night.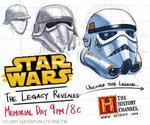 • Finally, check out the nice start-to-finish cover Steve Lafler made for his next comic book, Cat Suit. I assisted as art director, and let me tell you, this was fun to work on. Nice work, Steve-O!!