APE-bound in the morning...
April 19, 2007
I had to wake up with the kid this morning, so i went to bed "early" last night (i'm usually up until about 3:00 a.m.), and of course, i was unable to fall asleep until hours and hours later, as the sun was coming up.
And now, i'll be getting up early again for the annual APE road trip with my pal Bwana Spoons, down I-5, across the border and into Northern California and the truly awe-inspiring Mt Shasta wilderness/lake area. We'll head down past Redding (home of the Liquor Bar …Â it's huge, like Home Depot huge, but it's ALL booze!), then eventually cut across diagonally on the 505, and then onto the I-80. I-80 is great for me on this trip. It's like one long strip mall, with a highway running through the middle of it, and after i've been behind the wheel all day, it's a total adrenaline rush, what with the blinding speed of people obviously with places to be. The slow lanes cruise at 60 - 65 MPH, and the fast lane hovers usually between 85-90 MPH.
I'm staying the first night in Oakland, with Scott Morse. Whoo hoo!
• Dave K. has a new 20-page comic, about girls hanging out at the mall, up on his website.
• Received this shameless self-promotion in my email in-box, from some students at the Center for Cartoon Studies. How can i turn THAT down. Glad to, in fact. There's some good stuff therein.
"My name is Adam Staffaroni and I'm currently a student at the Center for Cartoon Studies in White River Junction, Vermont. A group of other students and I got together to create a collective website to showcase all the work we've been doing. The site is titled I Know Joe Kimpel.
"We have a minicomics store which, in addition to student work, has work from CCS Fellow Ken Dahl and artist/sometimes professor Rich Tommaso. We've just added a blog to post artwork samples, updates on our projects, and about all the visiting artists constantly coming to the school. Also, some students are already receiving very good reviews from The Comics Journal and Indie Spinner Rack.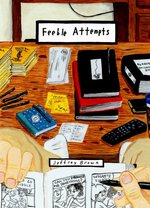 • In the same vein, Jeffrey Brown wrote to tell me about the new Holy Consumpton blog where he'll be posting about upcoming events and signings. Speaking of which, Jeffrey will be signing copies of his new book Feeble Attmpts this Friday night at Giant Robot in San Francisco. (Off upper Haight, around the corner from Amoeba Records.)