i'm off to see the wizard...
March 30, 2007
• Off in the morning to Seattle for the Emerald City Con.
If you too are in Seattle this weekend for the Emerald City Con, don't miss this event on Saturday at the Fantagraphics store. The Fanta gang are trying to rectify the lack of parties at this show, and i for one am stoked! There will be a Jim Woodring show up in their gallery, plus there are bars and restaurants galore in the vicinity. Whoo hoo!
• How cool is Portland City Commissioner Sam Adams? So cool, he's hosting a First Thursday event at City Hall, featuring work by local cartoonists and illustrators 5th, from 5 - 7p.m. Artists include Bwana Spoons, Martin Ontiveros, Carson Ellis, Jenn Manley-Lee, Steve Lafler, Shannon Wheeler, and more.
• Here, here! Howard Zinn on why i think that for as loathsome as GOP ideology and policy is, so are most Dems a bunch of weak-kneed wussies. I dream of a day when we have real, people-powed human beings leading our country. Ah, some day...
• Fanboy ALERT!! Indy snobs, read no further. In case you missed it, the recent Anniversary issue of Fantastic Four (#543) has two fabulous back-up stories, neither of which have ANYTHING to do with this whole stupid Civil War bullshit. The first story, "If This Be... Anniversary," is penned by none other than Stan The Man Lee himself, with bitchin' art by some dude named Nick Dragotta and inks by Mike Allred. It's a load of fun, as is the next story, written and drawn by Paul Pope, with colors by super-stud Jose Villarrubia. With "A Day at the Races," Pope proves that he really truly "gets" the Marvel Universe, in which Johnny Storm and Spider-Man compete for attention.
(The feature story is in current continuity, and thus i just couldn't get into it at all. To be fair, i liked the initial concept and ideas behind Civil War, and actually loved the Illuminati one-shot... but after that, it lost steam and simply didn't live up to the hype.)
• Things you should check out and buy, from the new Diamond Previews.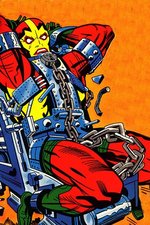 P. 080 Jack Kirby's Fourth World Omnibus vol. 2
P. 257 Elvis Road Hardcover. Buenaventura Press
P. 300 The Black Diamond Detective Agency, by Eddie Campbell (:01 First Second)
P. 342 Mantlo: A Life in Comics, edited by David Yurkovich
P. 366 Modern Masters Vol.12: Michael Golden. (TwoMorrows)
This last item especially makes me tremble with joy.
• Anthology whore that i am, i'm surprised it took me as long as it did, to give a new kid on the block, C'est Bon, a chance. I think i was maybe turned off by the magazine format at first. In any case, the cover for the recent issue #2 kicked my ass, so i picked it up, and am glad i did. I went and rooted out issue #1, and i'm officially a convert.
Details are skimpy, but this is an English-language anthology out of Sweden. Lot's of great material by familiar faces and emerging stars from North America and Europe, with contributors like Martin Tom Dieck, Ho Che Anderson, R. Kikuo Johnson, Daniel Zezelj, Vincent (King Mini) Stall, and Dash Shaw. But there are plenty of new faces too; favorites for me were standouts like Arne Bellstorf, Jimmy Jonsson & Maria Fredriksson, Daniel Savovic, Chiu Kwong Man, Jessica Khane & Pedro Nore, and Jyrki Heikkinen.
It's one of the best anthologies i've come across that effectively blends a decidedly sophisticated European aesthetic with a North American strut. Kudos to editor Mattias Elftorp and staff on a delicious comics feast.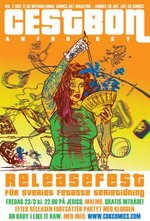 • I recently received an interesting seeming newsletter, that, unfortunately i couldn't read, as it was in Spanish. But this attachment came with it. A beauteous illustration by Brais Rodríguez.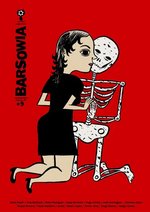 • Another one of the Renee French pieces which will hang in a group show at some two-bit museum, in Europe maybe? What was it called...? Oh yeah, The Louvre.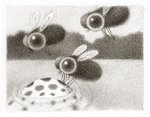 • Here's a neat piece by Matt Kindt. (Matt, i hope you don't mind that i post this... it's just too cool.)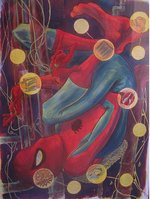 • Digging through some old emails, i found this cover design and paper-doll illustration by kick-ass German cartoonist Markus Mahwil.