and i wept like a baby...
February 27, 2007
The O.C. is gone! A television show which my wife had to originally entrap me into watching … because of the comics angle, natch … hooked me in the biggest way, and like all good television, i'm truly sad to see these characters go. The O.C. certainly had its share of cheese, and it was unapologetic about it, but it also had lots of heart, and in the end that's what matters to me. AND season 3 had a Blankets sighting as well. (Thanks, Ian!) Kudos cast & crew for a good run.
• Allow me now to turn your attention to some more work by the incredible Austrian cartoonist Nicolas Mahler, published by our friends La Pasteque up in Montreal. These four books are either silent or in English (despite them being a mostly French language publisher), so while the titles might be French, the books can be read in their entirety. Désir, Shitty Art Book, Bad Job, and Poèmes. (I couldn't find any large images, unfortunately.)
And as per usual, Mahler proves himself to be an incredible cartoonist, yet sadly unknown in North America. I hope i can change this.
In fact, i'll start right now. Order now, and you can buy both Mahler books published by Top Shelf … Lone Racer and Van Helsing's Night Off, each priced at $13 each) for only $20. That's $6 savings.
• Fantagraphics Bookstore & Gallery and Georgetown Records Present Filthy Beasts, featuring music by the DT's and art by Jim Blanchard on March 10.
Saturday, March 10 from 6:00 to 8:00 PM. Fantagraphics Bookstore & Gallery, in association with Georgetown Records, host an evening of fine art and raucous rock n roll. Filthy Beasts combines the CD release of the DT's Filthy Habits recording on the Get Hip label with an exhibition and signing of Jim Blanchard's Beasts and Priests title on Seattle's Fantagraphics Books imprint. This festive event is free to the public of all ages. Georgetown Records and Fantagraphics Bookstore are located at 1201 S. Vale. St., at the corner of S. Vale and Airport Way S. in the heart of the Seattle's historic Georgetown district.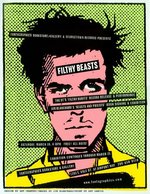 I'm sure you can read more about this event at the excellent Flog! The Fantagraphics blog.
• Here are finished pencils of the Jeffrey Brown cover for our forthcoming Seasonal Sampler book.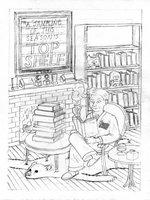 • John Weeks, international comics pimp, has a new update. He writes:
Our Books, a local nonprofit focused on Khmer comics, is pleased to announce that a new web comic is online. "Life's Choices" is available in English and Khmer at:
www.lifes-choices-cambodia.net
The story was developed in cooperation with PACT, with support from Danida and USAID. The comic aims to raise awareness about corruption in everyday life and how individuals can respond. Print copies are available via Our Books in Phnom Penh.
• My god, the more i learn about our nefarious government, i sink can only sink my head in my hands. Here, Naomi Klein writes about U.S. psychological torture, which literally drives people insane; and often on untried, unconvicted innocents rounded up and sent to Guantánamo Bay, or any number of illegal prisons around the world. Fucked up and disturbing. This administration will go down as one of the most horrific, regressive, and human rights/civil liberties damaging regimes in the history of the world.
• Marty finally won his Oscar. The Departed won a few, in fact. Good for you, Mr Scorcese.
• O.k. then, right as Staros is getting back from the New York Con, i'm leaving bright and early in tomorrow morning for San Francisco, and WonderCon.
•Â And finally, just because i stumbled onto it on the internet...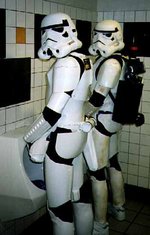 Ciao, baby!