st valentine indeed
February 15, 2007
• From Warren Ellis' Bad Signal:
"Always remember: Valentine's Day is a Christian corruption of a pagan festival involving werewolves, blood and fucking. So wish people a happy Horny Werewolf Day and see what happens. I love you all." … W
• The Isotope comics shop in San Francisco is hosting a premiere for the recently completed Jeffrey Brown documentary DRAWING BETWEEN THE LINES this Friday (Feb 16th) with Chicago film-maker Bruce Parsons. It follows Mister Brown all over the Chicagoland area and also on a cross-country trip to the 2006 Alternative Press Expo in San Francisco. The picture also includes interviews with comic artists Anders Nilsen, Liz Prince and Jamie Dee Galey as well as MOME editor Eric Reynolds.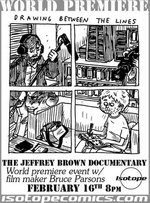 • Here is Renee French's incredible self-portrait for her upcoming Micrographica.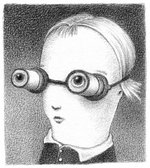 • Following are three versions of Andy Hartzell's forthcoming Fox, Bunny, Funny. Great stuff.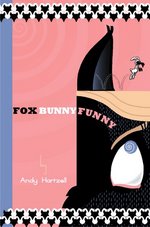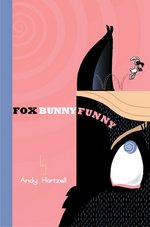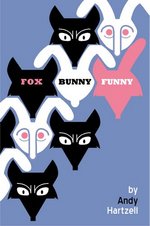 • Aaron Renier returned home from France, where he traveled with Craig Thompson to the infamous Angouleme; only the Western World's most important comics festival. (Bart Beaty wrote an in-depth report on this year's festival... chock full of background, history, politics, and of course, comics.)
Anyway, Aaron sent this to me, a book-plate he made for the Parisian comic shop, Super Hero. He too writes about his experience in France at his delightful website.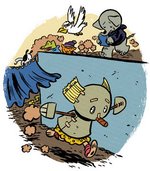 • Also, a new rough for our Anniversary poster, by Ulana Zahajkewycz.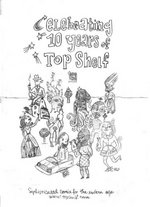 • Finally, i wrote when i got back from Australia, about some beautiful designs a British publisher had done for the Elmore Leonard catalog. Well, a little investigation here in Portland, at two different locations of Powell's Book, has uncovered some gorgeous designs for Mr Leonard's crime novels here in the U.S., by none other than Chip Kidd. I must say, these too are superbly designed. Now i need to clone myself, so i have time to read all of these!
These are the UK editions.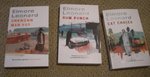 And the US editions.