beasts!
February 7, 2007
It seems like i've been saving neat stuff as i stumble across it, then updating every five days to a week. I think this is the most productive i can be on the blog, so i hope it works for any readers who may be out there. Fun things follow.
• Went to the launch party here in Portland on Friday, for Jacob Covey's exquisite illustrated bestiary, aptly titled Beasts!. The show was at Bwana Spoons' fabulous art space / gallery / store Grass Hut, on east Burnside, and it was PACKED. I saw lots of comics peeps there, and was particularly fired up to meet Mr Covey himself. In short order he is quickly making a reputation as one the finest designer /art directors in all of comics. Witness superlative work on Fantagraphics books like Popeye, Dennis The Menace, and Beasts! itself, a flippin' masterpiece of design, perfectly married to its stellar contents. Congrats Jacob and Bwana.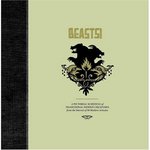 • I love a good magazine. Sorry to read about the demise of The Drama, which i only just discovered with its last issue. Still great stuff coming out from FLAUNT and SWINDLE, two of the most consistently excellent style mags. LOVED the first issue of GEEK magazine (which i think i already wrote about), and just found a new-to-me culture mag called DEATH & TAXES. This last one is similar in tone to the original run of the late great GIANT, and has actually replaced GIANT for me, since it changed hands and went down the toilet after issue 12.
Four more more magazines newly discovered, and well received into the Top Shelf Media Library.
CLUTTER
NUDE
ART PROSTITUTE
MEAN
Bwana Spoons' excellent PENCIL FIGHT is rolling along, with the third issue sporting a superb cover feature about Carson Ellis, hands down one of my favorite contemporary illustrators.
• Feast your eyes on these gorgeous watercolors by Gregory Benton.
• James Kochalka is having a gigantic show of Little Paintings at Giant Robot NY. He's painted 150 paintings for this show, and they're some of his best ever. The opening is Saturday, Feb. 17 from 6:30 to 10:00 pm. Then at midnight, he's having a rock show at Cake Shop, nearby.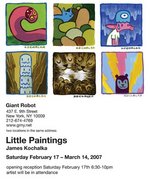 •Â Perusing NUDE magazine, i read a review of the film, Zidane: A 21st Century Portrait DVD After discovering this great soccer player only this last year in the World Cup, i was instantly spellbound. I REALLY want to buy this on dvd, but as far as i can tell, it's only available in Region 2 format, when i only have a Region 1 player.
In any case, i asked soccer buff Gregory Benton about this, and while he'd never heard of the film, he did send me this link to a great YouTube vid with Zidane. Then from that i found another one. Superb ballhandler, this man, and so fun to watch.
If anyone knows if this is available in Region 1 format, please let me know.