more things i've read
August 19, 2006
• First, some pics snapped by Alex Robinson's fabulous wife Kristen, at the Eisner's this year.
Andy accepting his award for Best All Ages Comic, for Owly.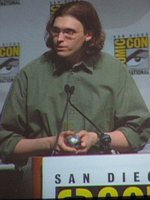 Aaron Renier running onstage to stop Chris Staros from accepting his award for him. (Aaron and myself showed up a little late, and Chris didn't realize we were there!)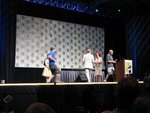 Aaron's drunkenly awesome acceptance speech, for Talent Deserving of Wider Recognition. (That's presenter Anina Bennett, standing behind him.)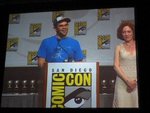 Rob Venditti, our one employee, and writer of our sci-fi book The Surrogates, enthusiastically enjoying the ceremony.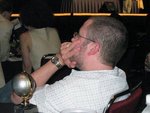 •Â And now for a few more books i've read, starting with editor Robyn Chapman's superb zine devoted to eye glasses and the people who wear them, Hey, Four-Eyes! Actually, this is the second issue, featuring a great wraparound cover by none other than Aaron Renier.
In addition to fine comics and/or drawings by Leela Corman, Cole Johnson, Nicole Georges, Aaron Renier, Kazmir Strzepek, Liz Prince, and Robyn Chapman, there are many stellar essays, overviews, and even a pictorial history of Antique Safety Glasses by Mr. Jeff Sharp. Plus, there's a totally unexpected, and yet fully deserved interview with zine legend Sean (Craphound) Tejaratchi.
If you wear glasses, you will LOVE this zine.
•Â Next up: the newest issue of POX, by the cheeky duo from Australia, Carol Wood and Susan Butcher. Their comics are almost zine-like in layout and attitude, channeling National Lampoon, classic undergrounds, and the Church of the Sub-Genius. Stories range in length from 1 - 5 pages, and combine bathroom humor with a scathing and astute intellect. These girls are VERY smart.
My favorite strip in this ish? Easy... Bizar-O-Christ. Best line, "Blessed am those who do, um, the opposite of all earthly things! Blessed am those who hate beauty! Blessed am those who love ugliness!" Sadly, i don't see a url listed, so i'm not sure you can track this down. Sorry.
•Â Ganges, by Kevin Huizenga. This is one of the volumes in the newish Fantagraphics/Coconino line called the Ignatz Collection. And it is so brilliant, that i almost thought my brain was going to explode while reading it. I've mentioned in a past blog how Kevin treads the razor's edge between formalism and commercially viable comics. What i may have forgotten to add to that, is that it's really actually irrelavant. His ability to convey the inner thoughts of humankind, to literally use comics to take us places in our hearts & minds, borders on shamanistic. I'm not kidding. Really. Stylistically, Huizenga hasn't particularly raised his own bar or anything, but that's because he's been a fully-realized cartoonist for years now.
Kevin Huizenga is arguably amongst a very small handful of North American cartoonists under 30 years old (i think he's under 30?) whom i would consider "world class." He's really that good.
•Â Finally, a nod to the newest volume of the Finnish anthology, Glomp #8. This anthology began modestly enough, and looked rather "normal" in earlier volumes. (We even did a little sub-distribution with them.) But with this newest volume, it seems as if the editors have been sucking down large bong loads of Kramer's Ergot for inspiration. Not a bad thing, actually. And this volume is ALL Finnish artists. Super duper cool stuff. (Images all ripped from their website, which has ordering info.) I picked my copy up at Portland's newest comics retailer, Floating World Comics. Thanks, Jason!