August 31, 2009 / More →
It's been pretty quiet here at the Top Shelf West Coast Headquarters. Intern Jen has departed back to Vermont and the CCS, and well... it's otherwise been pretty quiet. Weird for summertime. Like i'm sittin' in the eye of the hurricane. In any case, here's a few short news items, and some more art from the archives.
• Breaking Benjamin have a music video for Surrogates... with new footage. Courtesy Brett Weldele, artiste extraordinaire of Surrogates.
• Here's a swell billbaord drawn by Aaron Renier, from back when he still lived in Portland.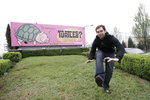 • Van Jensen is doing a contest for this Pinocchio, Vampire Slayer book. Check it out!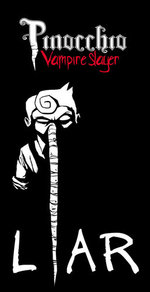 • Jeff Lemire talks Sweet Tooth at CBR. Oh, and issue #3 of this very same series is featured in the new Diamond Previews. Order it today!
• I'm not sure why this is in my archives, but it's one of my favorite pieces by the superb Martin Ontiveros.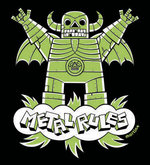 ---
August 22, 2009 / More →
Here is possibly the greatest Hulk [tm] vs Wolverine [tm] comic i've ever read. Clocking in at a whopping five panels.


• Andy Hartzell was just interviewed in the SF Examiner, in the lead-up to the SF Zine Fest this weekend.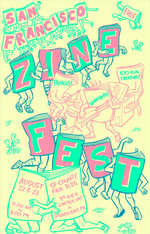 • This Comic Design Competition sounds pretty sweet... the winner's work will be include in a specially commissioned comic alongside works by Dave McKean, Dan Goldman, Aleksander Zograf, Dylan Horrocks, Fredrik Stromberg, Peter Kuper, Coco Wang and Bryan Talbot, amongst others!!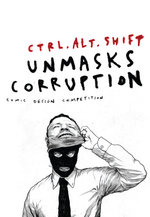 ---
August 18, 2009 / More →
That's when my co-hort Chris flew to Stockholm, Sweden, guests of publisher Galago, to attend the wonderful Small Press Expo. Jeffrey Brown had flown in ahead of us to lecture in southern Sweden at the Comic School of Malmö. To say that we were treated like royalty would be a giant understatement. And Jeffrey Brown is literally revered as a god in the burgeoning comics scene.
Note: Top Shelf now has a Flickr page, where you can browse all of the photos i took on my phone in Stockholm, Sweden, as well as some choice pages from the sketchbook from the trip.
I met lots of new people, as well as people i've known via email only for the first time, like Top Shelf alum Mawil (Beach Safari), who was manning the German publisher Reprodukt table, with Christian Malwald. And also Top Shelf 2.0 contributor Lizz Lunney, in from the UK and sharing a table with Adam Cadwell, Marc Ellerby (art on Jamie Rich's Love The Way You Love) and Anna Petterson. I learned about one of the greatest sweets ever, called Dammsugare, which translates as Vacuum Cleaner, because of its shape. Marzipan and chocolate that explodes on the palette. I drank so much beer i'm amazed i'm alive to tell the tale. The city is absolutely beautiful! (And the girls are too.) Scattered throughout are a few of the photos i snapped on my phone. I was lucky to have a recent intern Jen Vaughn from The Center for Cartoon Studies) scan the sketchbook i bought on the trip and which was subsequently filled by scads of Scandinavian (and German and British and American) cartoonists. (But mostly Swedes.) Again, these are up at the new Top Shelf Flickr account.
Anneli Furmark's sketchbook contribution, featuring Dammsugare!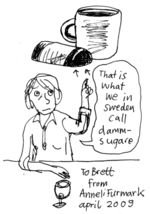 Here is Kristiina Kolehmainen, head of Serieteket (the Swedish Comics Library) at The Kulturhuset. Oh, and the dorky one on the right is me.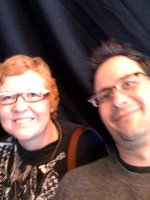 And here's Kristiina's right hand man Anders Lundgren (on the right) with Staros. Anders is works with Klubb Super 8. (Specializing in some crazy rare Swedish films!)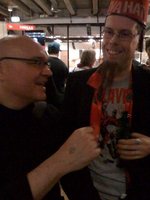 I was thrilled to meet Fredrik Strömberg, part of the world cognoscenti in comics. If you dig into the April posts at his website, you'll be treated to a wellspring of material about the show. Fredrik also penned a swell little book i picked up titled Swedish Comics History. It's in English and it's awesome! (In fact, in an ideal world we might have copies of this available here in the U.S. for when we roll out The Swedish Invasion in 2010.)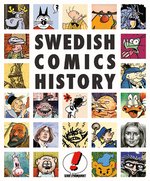 The Fins were out in force at the show, and though they were as nice as the Swedes, their language is even more difficult to decipher... so while this website seems chock full of information, sadly, i can't transcribe a single word. Still, just browsing this site is an adventure in itself.
Part of the Finnish contingent of the show was cartoonist and publisher Marko Turunen of Daada Books. This guy had some great chops, and his style ran all over the place and it is all good, as witnessed by his chunky comics collection Supernormal.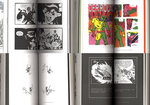 Sitting next to Marko was super-duper cartoonist extraordinaire Kaisa Leka, who's book On The Outside Looking In i picked up and wow!, this is some incredible comics. (In English!) I'm not quite sure how to get this book, but i officially nominate this in my Top Ten Books of the Year thus far for 2009. It's that smart and that well drawn.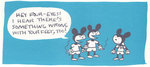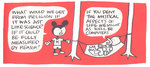 And next to Kaisa was sitting cartoonist and scenester, the ever-jubilant Johanna Rojola and the cutest girl of the festival and exquisite cartoonist, Mari Ahokoivu. These two were great conversation at the big official party.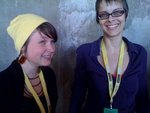 Here's the cover for Mari's new graphic novel, which she tells me she'll be sending to me for my perusal. Whoo hoo!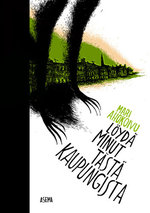 Digging on the work of Marcus Ivarsson. Publisher Optimal Press has two of his books in print, including Intro and Deluxe.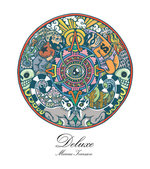 Also from Optimal Press is a stunning anthology by edited by publisher Ingemar Bengtsson called Allt för Konsten #7.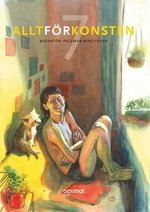 Our table was set up across the isle from Swedish indy comics stalwart and Galago co-founder Olle Berg. It's kind of a mystery to me why this guy's work isn't more well known over here. His work is as solid as any of most our own underground legends, with hints of Mariscall or Max for the almost cubist stylings.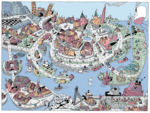 Another trick anthology, published by Kartago, is the one-writer anthology Allt Jag Rör Vid Försvinner, with stories by Henrik Bromander and illustrated by a plethora of fabulous Swedish cartoonists.
I scored many books from our friends at Galago, including Liv Stromquist's Einsteins Fru, Kolbeinn Karlsson's Trollkungen (which we'll be publishing next year!), and the most recent issue of their eponymous anthology Galago, a sort of Scandinavian cousin to anthology magazine Stripburger, from Slovenia.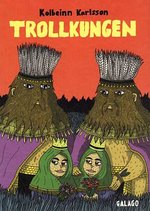 MK Reed posted this great report at Publishers Weekly, Lauren Weinstein does as well on her own blog, here is the Reprodukt report (for you German speakers), and Shannon O'Leary filed her own report at Daily Cross Hatch.
---
August 14, 2009 / More →
It so happens that besides having a world class comics shop Isotope Comics, James Simes' store also hosts the annual Isotope Awards ceremony, the Saturday night of APE. (That's Alternative Press Expo, y'all.) It's a fucking hoot of a party. In fact, for several years running i've been a guest bartender during the first couple hours of the event [usually too hammered to mix a decent cocktail after that] with my beautiful mix-master cohorts Kirsten Baldock and Adrienne Rappaport.
AND it also so happens that i've been chosen to be one of this year's judges, alongside the aforementioned Kirsten Baldock, as well as Tom Spurgeon, and Eva Volen. What an honor.
Again, submissions are open, kids!! So send your mini-comics in pronto!
• Also, in case you may not have heard, our graphic novel Surrogates [by Robert Venditti and Brett Weldele] was made into a movie, which is coming our forthright!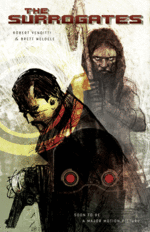 Posters are starting to make the rounds. Whoo hoo! This one was snapped by my buddy Gregory Benton.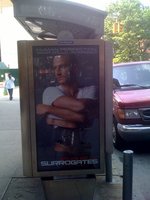 ---
August 11, 2009 / More →
The Science-Fact Behind 'Surrogates'
• Eddie Campbell has a dedicated link for all things Alec.
• So-many-cool-new-books/minis/comics/etc-no-time-for-lengthy-reviews: San Diego edition.
J. Chris' Fat Pack. Wow, what a stellar gift this was, from the enormously talented J. Chris Campbell. Comics, zines, buttons, wooden tokens, fiction, trading cards... you name it, it's here and it is awesome.
Atom-Bomb Bikini, by Robert Ullman. Rob draws the sexiest girls in comics. Hands-down my favorite, anyway.
Fluke 20009 Anthology, from Wide Awake Press. (Gifted to me by J. Chris Campbell.) A swell all-around anthology showcasing a lot of talented cartoonists you've probably never heard of. So check it out. Brad McGinty's strip pretty much blows my mind. Superb cartooning. You can read it here.

To learn more watch this, Making of the FLUKE 2009 anthology movie!!
The Ancient Age, Wide Awake Press. (Also from J. Chris.) Yet another bitchin' anthology well worth your time.
From "the other" Bud Plant, rare comics dealer i picked up an old education book called Meet The North American Indians (Random House, 1965). Fully illustrated by the great Jack Davis. Unbelievably choice stuff. I only wish i could have purchased the other Davis history book on Teddy Rosevelt and one (can't remember the title) by another favorite, John Severin.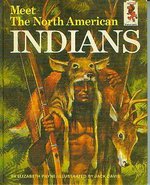 - Storm Clouds, by Jeff Soto. Published by Murphy. One of my favorite of the contemporary hipster fine artists. Really really beautiful and dreamy stuff.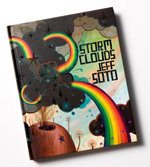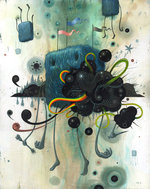 - Scott Morse's Red Window publishing label does very few books in a year, but they are all worth having. And this summer, he follows last year's stunning Ancient Book of Myth and War, with the exquisite Ancient Book of Sex and Science. It's by the same four genius artists who happen to work at Pixar, Scott Morse, Lou Romano, Don Shank, and Nate Wragg. I can not recommend this book highly enough. Get it now because it won't last long.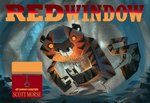 Every one of these four powerhouse artists deserve their own, feature-length, lush coffee-table art books. Some day?...
Art by Lou Romano.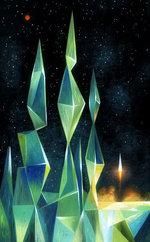 Art by Don Shank.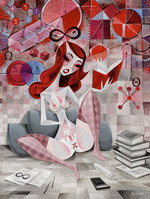 Art by Nate Wragg.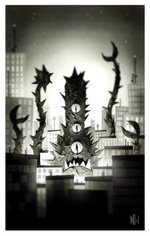 - Major haul from John Flesk's super high-end outfit Flesk Publications. With a slow and steady release schedule, Flesk has in short order become one of the more important archival comic strip / artist monograph publishers in this new Golden Age of reprints. This time around: Mark Schultz Various Drawings #3 & 4; Al Williamson's Flash Gordon; Major Thrill's Adventure Book, by Gary Gianni; The Prince Valiant Page (Gianni); and William Stout's Prehistoric Life Murals. This company has nary a single dud in its entire line.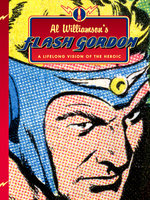 ---
August 4, 2009 / More →
In spite of cries about how we're losing the comics-end of things to the big film studios and the industry is on it's death bed, and the sky is falling, Top Shelf did positively o.k. and i personally had an absolute blast. The Eisner's specifically were truly awesome. I sat at the Top Shelf table with our man Leigh Walton, cartoonist Jeffrey Brown, long time friend and embedded comics journalist Heidi MacDonald, Nate Powell (who was nominated for no less than three awards) and his swell parents. AND, while i was making trips to the hotel bar for new frequent rounds of cocktails, i had a nice chat with industry legend Jim Shooter. AND, after Nate won the most prestigious award in the comics medium (the Eisner for Best Original Graphic Novel) for his book Swallow Me Whole, Nate's mom officially adopted me!! Oh, and for dinner before the ceremony i supped at a restaurant called the Yardhouse, which had 113 beers on draught!! Heeaavven. Post-Eisner's chatting with Denis Kitchen, Tom Devlin, Josh Dysart, Schreck and so many many more. Truly a beautiful evening.
Heidi and Brett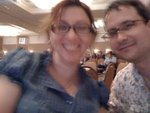 My table-mates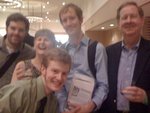 Nate, his righteous-cool folks, and the Eisner for Best Original Graphic Novel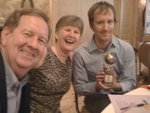 Me and Schreck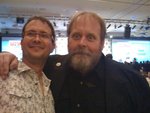 Me and Shooter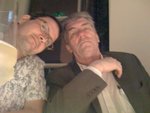 At San Diego for the first time ever and manning the booth was Kevin Cannon, promoting his rollicking adventure story Far Arden. Here's a link to his photo set!
I mentioned that Kevin's book may just get nominated NEXT year for the award Nate just won, and Nate got a little protective of his new baby.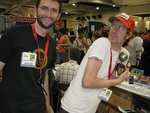 This here is my (former?) intern Emi Lenox, helping out at the Top Shelf booth.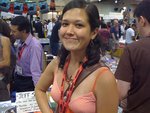 Matt Kindt draws and watercolors Iron Man and Black Widow.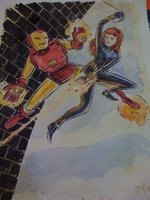 Here's Top Shelf's own Rob Venditti, and... some, uh, dude, who's gonna be in, some... movie i think?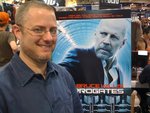 Also had a swell time at Jah Furrie's party, co-hosted (i think) by Devil's Due. Hanging with Staros and Patrick Jodoin, watching Jim Mahfood, Scott Morse and Mike Huddleston rocking out live-art jams while Paul Pope was spinning records. Yeah. Catching up with pals like Henry Chamberlin and Jen Daydreamer, and Douglas (Oni) Sherwood and Kiel Phegley. Then, discovering the secret room back behind the separate downstairs club.
Pope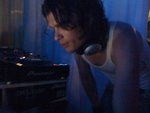 Jim Mahfood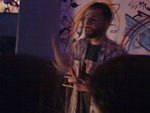 Huddleston and Morse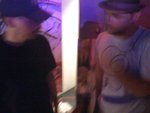 Douglas and Kiel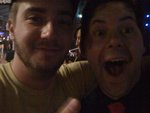 • Moving on, Eddie Campbell (who we really missed in San Diego) recently wrote in with his itinerary for the next few months.
"...this has come about very quickly. Trip to italy for the Lucca festival, at the expense of my publisher there.
"This is nuts, but i've just discovered i've got three books out at once, final volume of Bacchus due in August from Edizioni BD, Black Diamond which has just turned up from Magic Press, and unknown to me, Disease of Language has been out since march or April. Add to that the perennial From Hell...
"... anyway, from there to London where i have a signing at Gosh on Saturday, November 7, and an interview at The ICA in the evening as part of Paul Gravett's Comica Festival."
I wish i could go to the Comica Festival!! And in case i haven't posted these exquisite covers enough times, check out these brilliant Alec cover designs by Eric Skillman.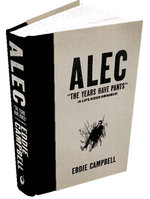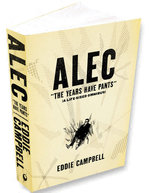 • And speaking of Eddie Campbell's Alec, we recently printed a fancy little promotional chapbook at Portland indy powerhouse printer Pinball Publishing, and they gave the booklet a showcase on their blog! Check it out. If you email me at brett@topshelfcomix.com i'll send ya one.
• Here's a terrific essay by Frank Santoro on the Comics Comics site. Tastey food for thought.
I'm really digging on his comics history tree here.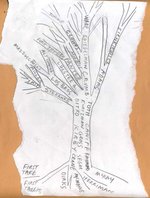 • Inkstuds has a Renee French Playlist (Mix Tape). Tres chic.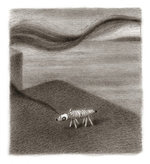 • How cool is this ad Grant Reynold's made for the next issue of Diamond Previews, which will be listing his awesome book Comic Diorama.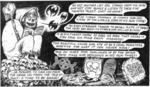 • Comic soon: My list of San Diego loot. My months-late scene report from Sweden. (Seriously. It's entirely written. I just need to start a Flickr account so i can post the massive amount of photos i took.)
---
July 17, 2009 / More →
I can't wait to get finally rest my peepers on copies of Jeff Lemire's brilliant Essex County omnibus collections, both in softcover and hardcover!!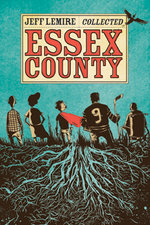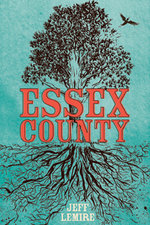 • Gregory Benton sent me the links-of-the-year. Part of a group show at GRNY called Dime Bag 3, Gregory writes, "Each artist was given a 3x3 inch baggie to do art in. I wanted to give a nod to the original notion of the bag's meaning, so I filled the bags with nice green rocks found at the beach & made labels for the flavors."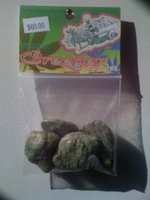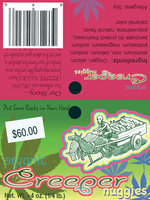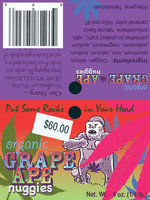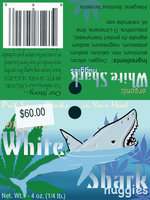 • So-many-cool-new-books/minis/comics/etc-no-time-for-lengthy-reviews Episode #69
If it appears here, it has my absolute stamp of approval. And i do recommend at least checking this stuff out.
- Comics retailer and convention organizer Dustin Harbin can now officially add "kick-ass cartoonists" to his resume. I just read issue #2 of his mini-comic Dharbin, and Zounds!, this guy has the goods. Kind of like a hillbilly Ivan Brunetti / Steven (Ribs!) Weissman / Charles Schultz love child. His comics can be purchased at DHARBIN.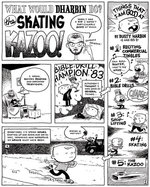 - One year later, i finally pulled volume 3 of You Ain't No Dancer out of my massive to-read pile. Snuggled inside a righteous wraparound cover by Kazimir Strzepek, this choice anthology took a literal giant leap forward since the first two volumes, quadrupling in size and girth. It's got some misses, but plenty of hits, including standouts by the aforementioned Kazimir, Lucy Knisley, Ken Dahl, Phil McAndrew, Patrick Murphy, Dalton Webb, and Grant Reynolds.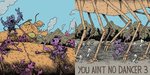 - Zinester and scenester Esther Pearl Watson just blew my mind with Hero Land #4. Yet another indy cartoonist playing with super-heroes... i just can't get enough!
• If you're not reading Emi Town, you should be.
• So i'm reading last weeks Entertainment Weekly, they're talking tv with the Television Must List, and asking celebs what's on their "must list"... Stephen Meyer (Bill on True Blood) called out my awesome friend and writer Willy Vlautin and his novel The Motel Life. That's pretty cool. (And BTW... The Motel Life is fucking outstanding literature, with cover art and illustrations by Nate Beaty. Very highly recommended.)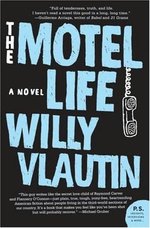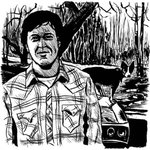 • Feast on this spiffy trailer for Rich Koslowski's Três Dedos: Um Escândalo Animado. That is, his Spanish translation of Three Fingers, by the publisher Gal Editora.
---
July 10, 2009 / More →
Welcome to Forest Island. A book about the artwork of Bwana Spoons, published by Top Shelf.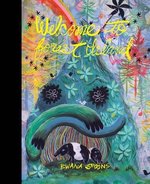 Portland Release Party: July 11, 6-9pm
Book Signing, Pencil Fighting, Fart Knocking!!!
Grass Hut, 811 E. Burnside, Portland, Oregon.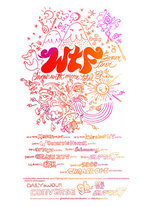 Bwana Spoons has been making art, zines, comics, toys, shoes, t-shirts, cards, and pretty much anything you could imagine for a long long time. He's inspired a lot of us art-makers to take things to the next level. It's been a long time coming, but now he's got a book "Welcome to Forest Island". It's pretty awesome and you should totally have is in your library of eye candy
• Andy Runton has a boatload of new Owly merch available! This stuff WILL be available at San Diego. Oh yeah, and the official animated Owly trailer debuts there too!
• Here a fun link to Kevin Cannon on KFAI Radio, featuring snippets of his book Far Arden in radioplay form.
• Finally, how cool is Matt Kindt's cover for the French edition of Super Spy, for Futuropolis.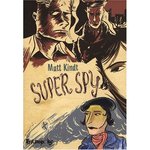 ---
July 2, 2009 / More →
• An art show of new work by my long-time pal Garret Izumi? Count me in! This is tonight here in Portland.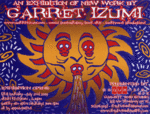 • And don't forget Jeremy Eaton's brilliant Cartoon Jumbles art show which opens tomorrow at Secret Headquarters.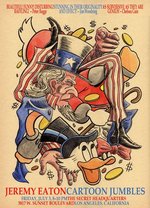 • Meanwhile, Will Dinski is serializing his new work-in-progress "Covered In Confusion" on his website. (And keep your eyes peeled in early 2010 for his Top Shelf debut Finger Prints.) Will's comics are amazing, as well a world class designer and one of the medium's foremost practitioners of exquisite hand-crafted comics and mini-comics.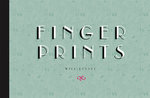 • Comics historian Craig Yoe has launched a new site dedicated to his hella cool release Secret Identity: The Fetish Art of Superman's Co-Creator Joe Shuster. I can't overstate how delicious this book is.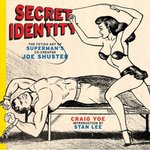 • Gareth Brookes from Appalling Nonsense recently gifted me a trio of stellar books: The Manly Boys Annual, a very creative, very witty and VERY British two-man anthology; The Banal Pig Landscape Anthology, a truly exquisite collection of comics; and J. Homersham's Musetopia, a series of delightful one-panel gags. Cheers!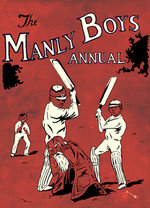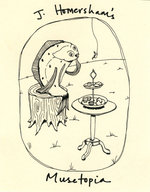 • Well i finally read the new issue of World War 3 (#39), the wordless issue. It's a fat 120 pages in length and it is, as always, hard-hitting and superb. Dig that Drooker cover and order it here.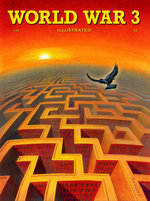 • So-many-cool-new-books/minis/comics/etc-no-time-for-lengthy-reviews Episode #44
If it appears here, it has my absolute stamp of approval. And i do recommend at least checking this stuff out.
- Birds in the City: Exploring the Wildlife of Crissy Field. One of comics' finest naturalists Tammy Stellanova delivers another gorgeous comic. In an ideal world kids would be reading her comics in classrooms across the nation.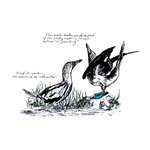 - Paper Cutter #10. Editor Greg Means of Tugboat Press continues his choice run of the best comics anthology running. This issue features new work by Damien Jay, Jesse Reklaw, and Minty Lewis.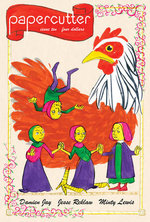 - James Hindle continues to produce little mini-comic gems. His new Come Back might be his best work to date. Terrific chops and storytelling, and as always, a bittersweet and effecting story. I'm a BIG fan of his work, and you should be too! (Note, this image is not from said comic. I just pulled it off his site because it's pretty sweet.)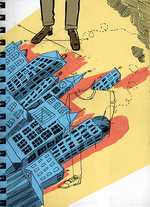 - Matinée, by the lovely Christine Norrie. This lush little mini combines two great things: Christine's beautiful artwork interpreting classic Hollywood films.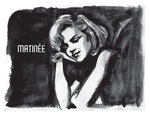 - The Girls' Guide to Rocking, published by Workman. Not comics. It is just what it says it is, with the subtitle, "How to Start a Band and Get Rolling to Rock Stardom." This baby rocks, chock full of useful information, from setting up a practice space, to song structure, to booking and promoting. Very very cool!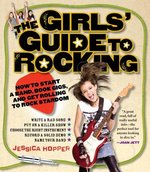 - Taddle Creek is an anthology of Toronto-based artists i picked up at TCAF. It's strong all around, but three pieces really rocked, by Michael (we can never see enough of his comics) Cho, J. Bone (set loose with an outstanding digitally-rendered wordless comic, and Fiona (i didn't even know she was still making comics) Smyth. A very very fine comic worth looking for. I'm not sure where it's available, but i'd wager it can be procured at Toronto's epic comics shop The Beguiling.
• And speaking of TCAF, here's a few snaps i took while i was in Toronto.
- Two great portraits by the aforementioned Michael Cho. I think these were originals, painted on a wooden sandwich board for Pages bookstore.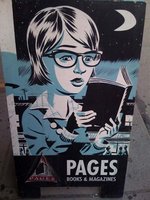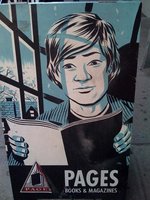 - Jeff Lemire starting his contribution to my Twin Peaks sketchbook. (This is the giant from Agent Dale Coopers dreams.)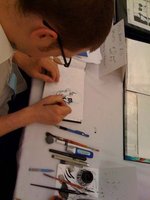 - Here's Matt Kindt and Jeff Lemire, comics cognoscenti, talking shop in Jeff's luxurious basement office.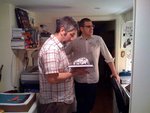 ---
June 30, 2009 / More →
<Alec: The Years Have Pants has left the building. It is en route to the printer as i type this, and fer f*cks sake, if there are only a small handful of must-have books of the year, this is one of them. Some of the most important, intelligent and human autobiographical fiction to ever see print. No less than 640 pages of comics goodness, all resting under sublime covers (softcover AND hardcover) designed by Eric Skillman.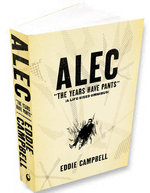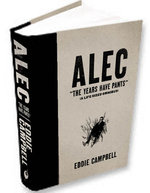 Like i said. Must. Have.
• So-many-cool-new-books/minis/comics/etc-no-time-for-lengthy-reviews Episode #43
If it appears here, it has my absolute stamp of approval. And i do recommend at least checking this stuff out.
- Re-read Rafael Navarro's brilliant Sonambulo: Sleep of the Just, since it came out eight years ago. It has aged exceptionally well. A luchador detective crime noir thriller. Oh, and the hero Sonambulo never sleeps, instead catching everyone else's dreams.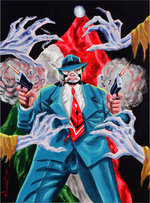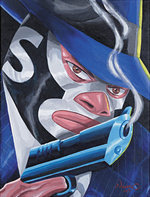 - Finally read Andi Watson's wonderful family story titled Little Star. (Oni Press.) Three years late, but worth the wait. Andi's evolution as a storyteller and as an artist over the years is incredible.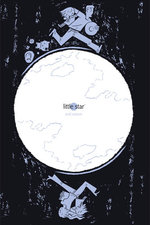 - Hey 4-Eyes #4. Robyn Chapman's fabulous zine about eye-glasses and the people who wear them. Tons of contributors, including the insanely talented Joseph Lambert.
(Art by Tom K.)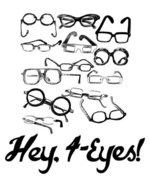 - Trubble Club III. The gang-bang of comics jams, this awesome mini proves wrong the rule that jam comics by nature suck butt. The art alone is worth the price of admission, but these short little ditties actually deliver.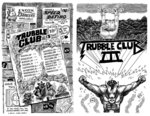 - Jewish Memoir Goes Pow! Zap! Oy! [On Autobiographical Graphic Novels and Why They are so Jewy], by Miriam Libicki. I've been a real big fan of Miriam's drawn essays chronicling her time spent in the Israeli army, but this is a smart and entertaining departure. Originally made for and featured in The Jewish Graphic Novel: Critical Approaches.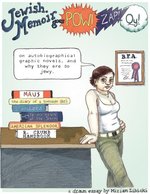 - Monkey Island. Self-published by Matt Rota. Good gods this guy can draw. Seriously, check out his site and feast your eyes.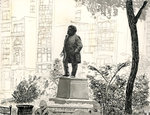 ---
June 27, 2009 / More →
Courtesy of American Elf.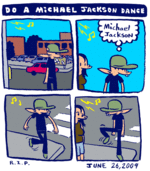 ---
June 25, 2009 / More →
If it appears here, it has my absolute stamp of approval. And i do recommend at least checking this stuff out.
Item #1. The Art of Harvey Kurtzman. By Denis Kitchen and Paul Buhle. Published by Abrams. Editor Charlie Kochman. A stunning addition to the growing number of vital comics-creator monographs. Hats off to all involved.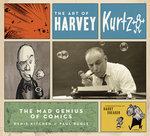 Item #2. The work of Grant Reynolds. This guy rocks and keeps getting better. Watch for his Top Shelf debut, Comic Diorama, this Fall.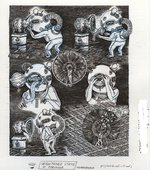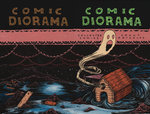 Item #3. Squink, dessin de dave mckean. A new book of mind-boggling drawings (NO digital manipulation!) published in conjunction with the always classy Allen Spiegle Fine Arts. No really, this is one of the most beautiful books i've seen in years. Get it while you can, McKean lovers.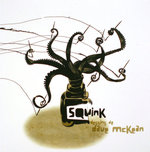 Item #4. The work of Dan Archer. Center for Cartoon Studies student. Edgy political comics. Still a little rough around the edges, but great stuff that should be seen, especially in the socio-political blogospere. I expect big things.
• And now some nifty random ephemera.
- A preliminary drawing by Bwana Spoons, for the international tour he's doing to promote his new Top Shelf release, Welcome to Forest Island.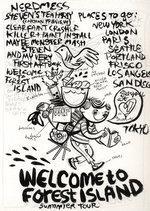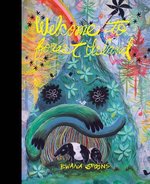 - Sneak peek at the cover for James Kochalka's Johnny Boo and the Mean Little Boy, and Christian Slade's third volume of Korgi.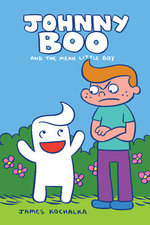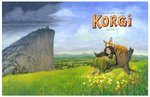 - Some promotional art for Kevin Cannon's Far Arden, which will be used in conjunction with Things From Another World.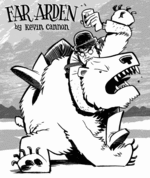 - And more from the pesky CCS (Center for Cartoon Studies) kids, given to me for giving them a sliver of our more-than-needed table space at TCAF a few weeks back. Thanks to Penina Gal, Josh Rosen, and Nick Patten.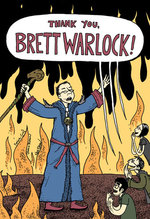 • Yeesh, just went through the brand new Previews. Good gods, there's so much crap. Sigh... Oh well, easy on the ol' pocketbook, right? A few items do command attention, however, besides of course our own Alec: The Years Have Pants, Eddie Campbell's magnum opus in one giant edition.
Anyway, you could do worse than to pre-order the following books with your favorite local retailer:
- Page 107. The debut issue of Jeff Lemire's Sweet Tooth, with colors by Jose Villarrubia. (DC / Vertigo) It's Jeff Lemire... need i say more?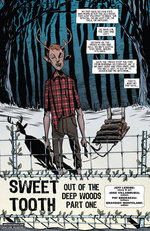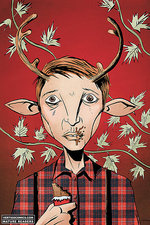 Page 182. Driven by Lemons, by Josh Cotter. (AdHouse Books) I've seen pages from this book, and it's fucking awesome.
Page 204. Masterpiece Comics, by the brilliant R. Sikoryak. (D & Q) The title is not hyperbole... it's really really amazing comics.
• Finally, we got a little shout out from Max Estes in Norway. Hi Max!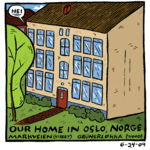 ---
June 24, 2009 / More →
[From a Grass Hut press release]
Portland is a river city; many of us lay our eyes daily upon the mighty Willamette and Columbia rivers. Yet, deep below the city's surface runs another river, one that few have heard of and even fewer have seen. It's a mysterious body of water that some say has the power to heal the sick, to make the old young again, to give the impotent a boner. It's a magical place known as Zine River.
Another well-kept secret: the IPRC has a secret passageway to this amazing river of creativity. Our fearless Membership Coordinator Lori D has been down there for months, paddling the Zine River on a homemade raft, seeking out underground artists and zinesters to take part in this special benefit
art show. Join us for the opening reception on Friday June 26th at 7pm, and take your own wild ride down the Zine River.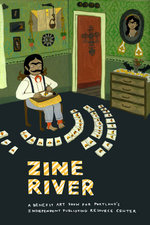 Zine River
A Benefit Art Show for the Independent Publishing Resource Center
Grass Hut Gallery
811 East Burnside Portland, OR 97214
Opening Reception: Friday June 26, 2009 at 7-10pm
The show will be up in the gallery until June 29th and online until August 2nd.
Featuring artwork and zines by Chris Johanson, Thomas Campbell, Lori D, Nicole J. Georges, Gabriel Liston, Theo Ellsworth, Dan Gilsdorf, Travis Millard, Mel Kadel, Megan Whitmarsh, Leif Goldberg, Keegan Wenkman, Scrappers, Sammy Harkham, Chris Duncan, Thom Lessner, Elizabeth Haidle and E*Rock.
---
June 24, 2009 / More →
Damn, if i was in New York next month i'd attend this fo sho!!
Join Mike Dawson (Ace-Face, Freddie & Me), Alex Robinson (Too Cool To Be Forgotten, Box Office Poison), and John Kerschbaum (Petey & Pussy, The Wiggly Reader) for casual comic-book conversation and Sunday brunch at Bergen Street Comics.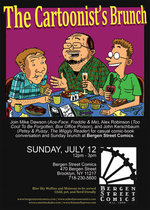 Blue Sky Muffins and Mimosas to be served. Child, pet, and Nerd friendly.
Sunday, July 12th
12pm - 3pm
Bergen Street Comics
470 Bergen Street
Brooklyn, NY 11217
718-230-5600
---
June 12, 2009 / More →
Here are some nifty sounding items of interest from my email in-box:
• Mike (Freddie & Me) Dawson and Alex (Too Cool) Robinson have started a new podcast called The Ink Panthers Show. "In each half-hour episode, Mike and Alex discuss the important issues of the day, including troublesome neighbors, Billy Joel, bike riding in Prospect Park, and news-radio."
Count ME in!
• Ink-stud Graham Annable has a bitchin' new store up online. So get on over to The Grickle Store, do your part to bolster the economy, and spend some dough!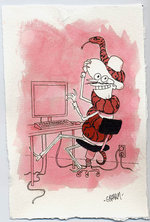 • Jeremy Eaton continues to Wow, with his surreal cartoon jumbles. Check out his 10-page pencil-studies preview and be floored.... i mean, Charlie Brown Watcher?!!.. COME ON!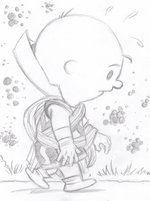 And these are just preliminary drawings for an upcoming show at L.A.'s Secret Headquarters' show of Jeremy's Cartoon Jumbles, which opens July 3. Secret Headquarters is located at 3817 W. Sunset Boulevard.
• Vertigo has released some sneak peek art for Jeff Lemire's Sweet Tooth at the new Vertigo blog, colored by our pal Jose Villarrubia. I saw some of the originals for this in Jeff's luxurious studio, and i can't wait to read it!!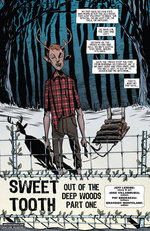 • Finally, my old college professor and good friend Ken O'Connell sent along this information and call for submissions for the Superhero Comic Conference and exhibit at (my alma mater) University of Oregon. He and Ben Saunders in the Lit Department have been championing graphic novels for years now. I've seen lectures by Scott McCloud and art spiegleman down is fair Eugene, and you can bet your bottom dollar i'll be down for this event! Unfortunately, the deadline for submissions is in three days.
Full press release:
UNDERSTANDING SUPERHEROES: AN INTERDISCIPLINARY CONFERENCE AT THE UNIVERSITY OF OREGON
Location: The University of Oregon, Eugene, OR
Dates: October 23-24, 2009
"Understanding Superheroes" is conceived as an interdisciplinary multi-media event, held in conjunction with a simultaneous exhibition of original comic art at the UO's Jordan Schnitzer Museum of Art.
This exhibition, "Faster Than A Speeding Bullet," will feature over 150 pages of original superhero comic art from the 1940s to the present, with examples of key works by many major creators in the industry, including Neal Adams, Mike Allred, C C Beck, Gene Colan, Steve Ditko, Will Eisner, Bill Everett, Lou Fine, Ramona Fradon, Dave Gibbons, Don Heck, Carmine Infantino, J G Jones, Gil Kane, Jack Kirby, Joe Kubert, Mort Meskin, Frank Miller, Joe Orlando, George Perez, H G Peter, Mac Raboy, John Romita Sr., Alex Ross, Marie Severin, Bill Sienkiewicz, Matt Wagner, and Berni Wrightson.
Keynote Speakers include Danny Fingeroth (author of Superheroes On The Couch and Disguised As Clark Kent) and Charles Hatfield (author of Alternative Comics: An Emerging Literature).
Guests Panelists include Kurt Busiek (author of numerous Superhero titles for Marvel and DC, and creator of the award-winning Astro City series), Greg Rucka (co-creator of Gotham Central, White Out, Queen & Country, and many projects for Marvel and DC), and Gail Simone (writer on Marvel's Deadpool, DC's Birds of Prey, co-creator of Welcome To Tranquility for Wildstorm, and current Wonder Woman scribe)!
Other guests TBA.
We invite 1-2 page proposals for 20-30 minute conference papers considering the implications of superhero fantasies for our understanding of such diverse topics as gender identity, queerness, theological yearning, and nationalist politics. We also welcome appreciative discussions of superhero comics as significant aesthetic achievements — particularly insofar as those discussions contribute to the ongoing project within contemporary Comics Studies, to map the unique conventions of the comic art form. Above all, we are interested in sophisticated, lucidly written analyses that utilize the conceptual tools and hermeneutic lenses of contemporary literary and cultural theory.
It is our hope that this conference will help all participants, student and professional, skeptic and fan, to understand the extraordinary imaginative appeal of the costumed adventurer — an appeal that overlaps significant distinctions of age, gender, nation, and culture, and which no amount of silliness or cynicism seems quite able to dispel.
Please address queries and submit proposals via email to Ben Saunders, Associate Professor, Department of English by Monday, June 15th, 2009. (Email address: ben@uoregon.edu )
---