yeah!
January 8, 2008
Yeah, The Spurg is back, and Comics Reporter is online again!! I've really missed this blog … easily a favorite, and my only "must-read daily" comics website. Lot's of stuff to catch up on, including great interviews with cartoonist Frank Santoro, Eric (Fantagraphics) Reynolds, Chris (AdHouse) Pitzer, Karen (Vertigo) Berger, and pop-culture writer and bon vivant Sean T. Collins.
• Jeff Lemire's wife Lesley Anne made this fabulous "action figure" of his character Lester, from the graphic novel Tales from the Farm. Killer!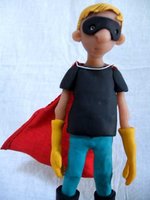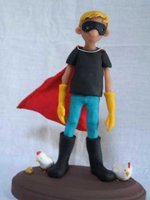 Jeff has also drawn this beautiful cover for our annual Top Shelf Sampler, this year's 2008 edition.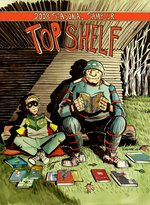 • Some neat art by web comix contributor Lode Devroe.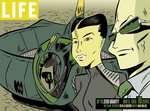 • Dash Shaw's new strip is now being serialized on a weekly schedule on his website. Dash is one of the most engaging cartoonists to come around the pike in a long while, and certainly one of the few who challenges the formal limits of the medium.
• Got this in an email from Wayne Shellabarger. Great stuff.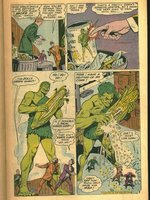 "Here's a provocative Jimmy Olsen page that I've wrestled with for years. Like a Marcel Duchamp, an 11 minute Bob Dylan song, or a comon dollar bill, it's "right there" on the surface but impossible to reduce to one singular meaning. The mystic power of ancient rituals and symbols collide with crass mass produced images working in tandem solely to bail Jimmy out of a minor back-alley scrape with cheap, maize-phobic hoods. Product placement? Did the writer have a giant bowl of canned corn at 2am, later waking on the floor near his bed with terrifying rarebit-like visions of fantastic terror? Truly revolutionary in its pop-culture vest, any serious analysis dead-ended by a maddeningly deflective Warhol-like non-response in the Jimmy's Pen-Pals page."
• Bill's Kelter's new VEEPS website/blog kicks ass! (Ostensibly created to promote Bill and Wayne's upcoming masterpiece VEEPS, this blogs plans to be an evolving commentary on all things political that catch their fancy.)
• How much does Nate Duke, a fan working right now at the McMurdo Station in Antarctica as a power plant operator, supplying power for the 1000+ people there (and a part of the National Science Foundation), love Top Shelf? Check it out. We're representing on all seven continents now!! (Thanks to Chris Staros for the info... Chris' first contribution to the Top Shelf blog!!)