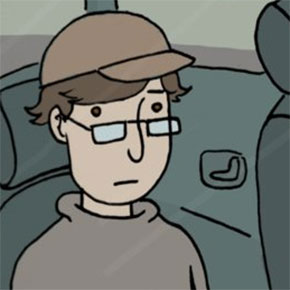 Sophie Yanow
More and more people are making use of Sophie Yanow every day, but the question remains -- what can she do for you? The fact of the matter is Sophie has a number of everyday uses for you and your friends and family. Not only can Sophie's 40 page comic
VSNQST
enlighten you on Top Shelf 2.0, it can also aid you in your non-computer reading, in a book form available at a store near you! Her personal website,
SophieYanow.com
, features a wealth of comics and other art to entertain and intellectually stimulate. She lives in Oakland, CA and is available for corporate events and bar mitzvahs.
Sophie Yanow is a Bay Area cartoonist and artist whose work examines how our social world has changed in the internet age. She attended UC Santa Cruz, where she studied printmaking and drawing, and founded the Comics Library at McHenry Library. Sophie currently works at a snazzy comic book store in the East Bay, wheeling and dealing mini-comics to her heart's content.