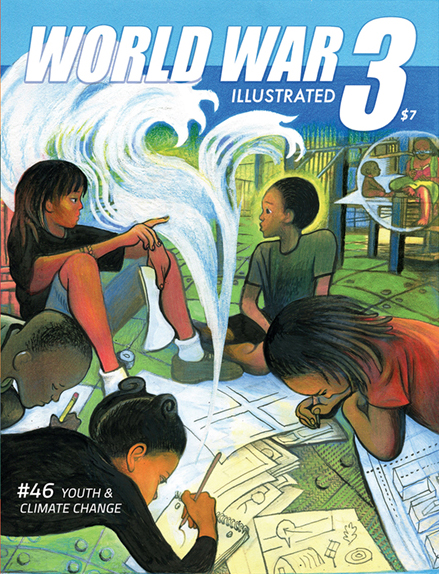 Edited by: Hilary Allison, Paula Hewitt Amram, and Sandy Jimenez
The acclaimed political anthology, still going strong after 30 years, stays as relevant as ever. This issue features comic book stories about young people and how they are confronting the "climates" they have inherited- social, political, cultural, and especially environmental. For the first time in this comic book magazine's 35 year history, works written, drawn by, or with youth will be featured in the magazine along with stories by parents and children and collaborations between teachers and students. Rather than stories about the younger days of today's adults, World War 3 Illustrated #46: Youth & Climate Change will feature individual perspectives of today's youth: the ultimate inheritors of the world and future the adults of planet earth are laying the foundation for.
Featuring work by: Eric Drooker, Peter Kuper, Seth Tobocman, Kevin Pyle, Chris Cardinale, Jordan Worley, Carlo Quispe, Paula Hewitt Amram, Hilary Allison, Mark Graham and many more. -- a 160-page, b&w perfect bound comics anthology, 7" x 9"
Published by World War 3 and Distributed by Top Shelf.