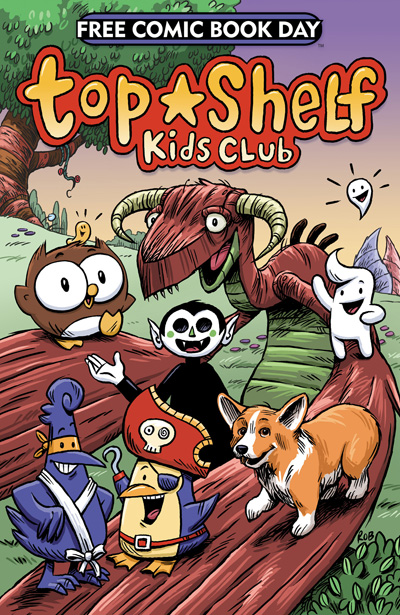 A TOP SHELF KIDS CLUB COMIC BOOK!
by Andy Runton, James Kochalka, Christian Slade, Ray Friesen, Jess Smart Smiley, & Rob Harrell
Cover by Rob Harrell
Here at Top Shelf, we're celebrating FREE COMIC BOOK DAY 2013 with friends old and new -- the latest lineup of the Top Shelf Kids Club! This FREE comic book contains not one, not two, but SIX different adventures for readers of all ages. Inside are brand-new stories featuring OWLY by Andy Runton, JOHNNY BOO by James Kochalka, KORGI by Christian Slade, PIRATE PENGUIN VS NINJA CHICKEN by Ray Friesen, and UPSIDE DOWN by Jess Smart Smiley, plus the debut of MONSTER ON THE HILL by Rob Harrell, who also contributes this year's cover! Come on in and join the party! -- A 24-Page Comic Book, UPC 793573215895
---
Related Titles
Mobile Site Go to Full Site
Top Shelf Productions® and the
Top Shelf logo are registered trademarks of
Top Shelf Productions, Inc. All rights reserved.