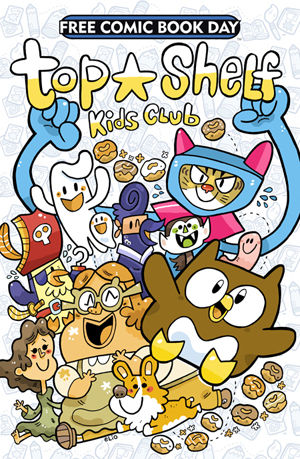 A TOP SHELF KIDS CLUB COMIC BOOK!
In this rare FCBD edition, we'll not only present three adventures from our established all-ages series OWLY by Andy Runton, JOHNNY BOO by James Kochalka, and KORGI by Christian Slade; but we'll also feature three all-new stories from three brand new all-ages series debuting this year: OKIE DOKIE DONUTS by Chris Eliopoulos, PIRATE PENGUIN VS NINJA CHICKEN by Ray Friesen, and UPSIDE DOWN by Jess Smart Smiley. Perfect for everyone in the family. With a great cover by Chris Eliopoulos this time around to boot! -- 24-Page Comic Book, UPC 094922048844
VERY FEW LEFT!
Reviews
---
Related Titles
Mobile Site Go to Full Site
Top Shelf Productions® and the
Top Shelf logo are registered trademarks of
Top Shelf Productions, Inc. All rights reserved.