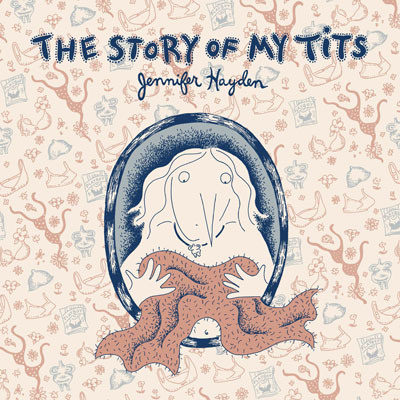 One of Library Journal's Best Books of 2015!
One of Amazon's Best Books of 2015!
"Heartbreaking and riveting, Jennifer Hayden's caustic, sarcastic wit streams through her quirky drawings, unfolding a survivor's tale and so much more. The Story of My Tits takes us from her flat-chested adolescence to small-boobed acceptance, then loss - until the dramatic reconstruction of Jennifer herself." —Marisa Acocella Marchetto, author of Cancer Vixen and Ann Tenna
"Like Alison Bechdel's Fun Home, Jennifer Hayden's The Story of My Tits is the perfect gateway graphic novel... her writing is as deft as her drawing line." — The New York Times
"[Hayden's] honesty is blistering: every panel is a densely inked peek into the gory details of womanhood, from breastfeeding to breast cancer... Her knack for dreamlike imagery is a delightful counterpoint to this frankness... It is this combination of surrealism and an unflinching commitment to candor that elevates this memoir beyond simple confessional into something truly moving." — Publishers Weekly (starred review)
"Every page spills over with the stuff of life... cancer isn't allowed to shove joy, hope and humor offstage." — NPR
"There's a theme that runs through her beautifully intimate graphic memoir that we can all relate to... Hayden recounts the story of her life by telling us the story of her breasts, as a way to explore body image, relationships, and cancer." — Marie Claire
"Everything a graphic memoir can and should be... this is a deeply moving, serious and hilarious tale of growth, loss and transformation, highly recommended to all." — The Miami Herald
"The pacing of her storytelling is seamless... Hayden's memoir will resonate with anyone who has suffered loss and gone on to tell the tale." — Booklist
"Fabulous... for a story that cancer twines through, it is delightfully hilarious. Hayden has a gift." — Foreword Reviews
"The Story of My Tits details three different women's battle with breast cancer… and all the cultural and emotional weight that gets carried by a bra. What leavens the story is Hayden's drawing, packed with wiggly detail, and her voice, irreverent and blunt... it's a voice that faces heartbreak head-on and comes out swinging." — The Village Voice
When Jennifer Hayden was diagnosed with breast cancer at the age of 43, she realized that her tits told a story. Across a lifetime, they'd held so many meanings: hope and fear, pride and embarrassment, life and death. And then they were gone.
Now, their story has become a way of understanding her story: a journey from the innocence of youth to the chaos of adulthood, through her mother's mastectomy, her father's mistress, her husband's music, and the endlessly evolving definition of family.
As cancer strikes three different lives, some relationships crumble while others emerge even stronger, and this sarcastic child of the '70s finally finds a goddess she can believe in.
For everyone who's faced cancer personally, or watched a loved one fight that battle, Hayden's story is a much-needed breath of fresh air, an irresistible blend of sweetness and skepticism. Rich with both symbolism & humor, The Story of My Tits will leave you laughing, weeping, and feeling grateful for every day. -- a 352-page softcover graphic novel with French flaps (B&W Interiors), 8" x 8"
IN PRINT! (PUBLISHED SEPTEMBER 2015)
Reviews
---
Related Titles