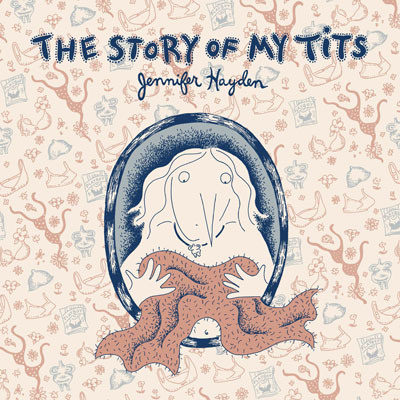 The acclaimed author of Underwire returns at last with her magnum opus, spanning a lifetime of love and loss, fear and family. For everyone who's faced cancer personally, or watched a loved one fight that battle, Hayden's story is a much-needed breath of fresh air, an irresistible blend of sweetness and skepticism. Rich with both symbolism & humor, The Story of My Tits will leave you laughing, weeping, and feeling grateful for every day.
When Jennifer Hayden was diagnosed with breast cancer at the age of 43, she realized that her tits told a story. Their story. Which was also her story. A story that started with her growing up in the '70s, flat-chested and highly aware of her inadequacies. Next came college, where she developed a chest -- and a personal life as well. Then adulthood, which was less about her tits and more about other people: her mother with the mastectomy, her father with the mistress, and her musician boyfriend, who wasn't easy to live with. This book explores the effects of cancer on three different lives, and how the nature of marriage can weaken or become stronger under the pressure of illness. ... The Story of My Tits is the song of a woman who lost her tits and became a goddess. -- a 352-page b&w softcover w/french flaps.
SHIPPING SEPTEMBER 2015!
Reviews
---
Related Titles