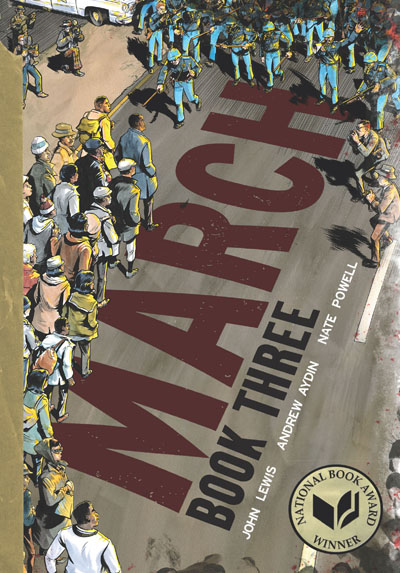 Top Shelf is honored to present a milestone of comics history: the stunning conclusion to the award-winning and best-selling MARCH trilogy.
A #1 New York Times Bestseller
Winner of the National Book Award for Young People's Literature
Winner of the Coretta Scott King Book Award
Winner of the Michael L. Printz Award
Winner of the Robert F. Sibert Informational Book Award
Winner of the YALSA Award for Excellence in Nonfiction
Winner of the Walter Dean Myers Award for Outstanding Children's Literature – Young Adult Category
Winner of the Flora Stieglitz Straus Award
Finalist for the LA Times Book Prize
"March is one of the most important graphic novels ever created — an extraordinary presentation of an extraordinary life, and proof that young people can change the world. I'm stunned by the power of these comics, and grateful that Congressman Lewis's story will enlighten and inspire future generations of readers and leaders." — Raina Telgemeier
"An incredible accomplishment. It is the history of John Lewis, the civil rights movement and his role in it... a book that explains — more deeply than anything else I've ever read — the methods and the moral foundations of the civil rights movement, how civil rights activists did what they did and won what they won, and how they had the strength to do it in the most difficult circumstances imaginable." — Rachel Maddow
"I cannot recommend this book enough." — Trevor Noah
"This memoir's unique eyewitness view of epochal events makes it essential reading for an understanding of those times—and these." — Kirkus Reviews (starred review)
"A stirring call to action that's particularly timely in this election year, and one that will resonate and empower young readers in particular. Essential reading." — Booklist (starred review)
"Simultaneously epic and intimate... These vivid black-and-white visuals soar." — School Library Journal (starred review)
"Lewis has a unique perspective from which to recall these events, and he does so with intimate familiarity and bracing honesty... Powell's kinetic, fluid black-and-white illustrations create a relentless cascade of words and images that assaults the senses and underscores the brutality of the period. From Maus to Persepolis, graphic-novel memoirs have accounted for a large share of critical acclaim for the comics format, and now that this trilogy is complete, it can stand shoulder to shoulder with any of them." — The Horn Book (starred review)
"A perfect balance of clarity and passion... The narrative reveals the real work of revolution, focusing not just on the well-known events but the behind-the-scenes decision making." — Publishers Weekly (starred review)
"This account of heroism relived, penned with personal and political honesty, is essential reading for tweens through adults." — Library Journal (starred review)
"The closest American peer to Maus has arrived." — The Washington Post
"Extraordinary." — The Chicago Tribune
"Every bit the first two's equal... An essential story." — Austin American-Statesman
"March: Book Three is more than just a wonderfully executed historical account and terrific educational volume; it's a victory tale for the oppressed, an inspiration to anyone victimized by injustice, and a positive and motivational work that sings the praises and virtue of non-violence." — Comic Book Resources
"March may be the best civil rights story ever... I would even put it in the same hallowed category as Art Spiegelman's Pulitzer Prize-winning Maus." — Mashable
By the fall of 1963, the Civil Rights Movement has penetrated deep into the American consciousness, and as chairman of the Student Nonviolent Coordinating Committee, John Lewis is guiding the tip of the spear. Through relentless direct action, SNCC continues to force the nation to confront its own blatant injustice, but for every step forward, the danger grows more intense: Jim Crow strikes back through legal tricks, intimidation, violence, and death. The only hope for lasting change is to give voice to the millions of Americans silenced by voter suppression: "One Man, One Vote."
To carry out their nonviolent revolution, Lewis and an army of young activists launch a series of innovative campaigns, including the Freedom Vote, Mississippi Freedom Summer, and an all-out battle for the soul of the Democratic Party waged live on national television.
With these new struggles come new allies, new opponents, and an unpredictable new president who might be both at once. But fractures within the movement are deepening ... even as 25-year-old John Lewis prepares to risk everything in a historic showdown high above the Alabama river, in a town called Selma. -- A 256-page graphic novel with French flaps, 6.5" x 9.5"
Reviews
---
Related Titles