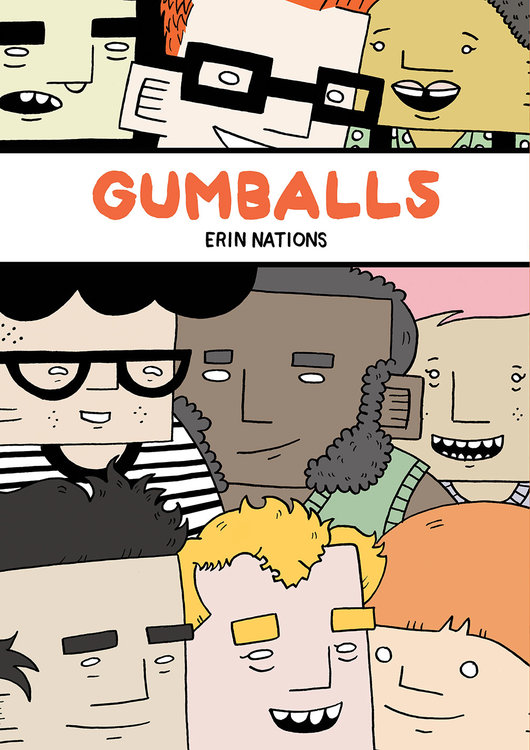 WINNER OF THE 2018 DINKy AWARD FOR DIVERSITY!
"Nations is a standout, portraying his experience with humor and honesty, and with distinctive, whimsical art." — Publishers Weekly, Top 10 Comics & Graphic Novels for Spring 2018
"No comic in 2017 spoke as deeply and personally while entertaining as Gumballs did. A mix of autobiographical comic strips about the author's journey as a trans man and other socially awkward funnies, Gumballs consistently delivered warmth, optimism in the face of challenge, and one of the finest printed publications around." — Comicosity
"Gumballs is funny, sincere, and just generally brilliant — when dealing with autobiography, fake personal ads, or any number of other events. Nations is a promising new voice in comics, and you need to read Gumballs." — ComicsVerse
"Gumballs lays bare a lot of serious, complicated stuff and presents it with a frankness and humor that really moved me to my core." — Multiversity Comics
Gumballs dispenses an array of bright, candy-colored short comics about Erin's gender transition, anecdotal tales of growing up as a triplet, and fictional stories of a socially inept lovestruck teenager named Tobias. The wide-ranging series is filled with single-page gag cartoons, visual diaries of everyday life, funny faux personal ads, and real-life horror stories from customers at his day job. Gumballs offers a variety of flavors that will surely delight anyone with a taste for candid self-reflection and observations of humanity. This book collects Gumballs #1-4, plus 32 pages of brand-new content!
Gumballs tips its hat to the classic alt-comic tradition of Eightball, Optic Nerve, and Box Office Poison, but speaks with a delightfully fresh voice for the modern age. -- a 160-page, full-color softcover trade paperback/collection with French Flaps, 6.625" x 9.5"
Reviews
---
Related Titles