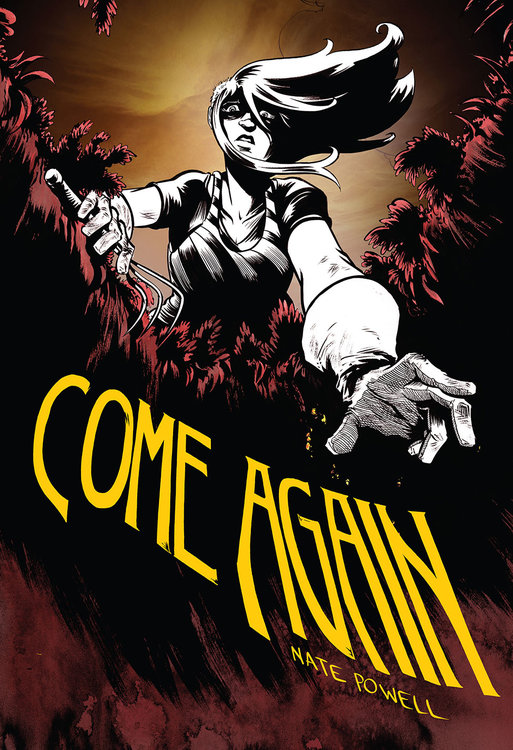 One of Publishers Weekly's Top 10 Graphic Novels for Spring 2018!
"Rendered in fluid, magical brushwork tinted in the colors of a sunrise and filled with mysterious shadows and crannies... this enchanting solo effort reveals even greater depths to Powell's gift for visual storytelling and creating appealing, human characters." — Publishers Weekly (starred review)
"With his work on Swallow Me Whole and March, Nate Powell established himself as one of the premier talents in comics, but Come Again is his finest work yet. Profoundly moving, intimate, and haunting, this book will resonate with you for a long long time." — Jeff Lemire
"Powell's work lives, literally and figuratively, in the intersection between light and dark. Just when you think you'll be engulfed completely in the shadows, the sun floods in." — Jillian Tamaki
A lover's dream becomes a parent's nightmare in the astonishing new graphic novel from Nate Powell, National Book Award-winning artist of the March trilogy.
As the sun sets on the 1970s, the spirit of the Love Generation still lingers in one "intentional community" high in the Ozarks. But what's missing?
Under impossibly close scrutiny, two families wrestle with long-repressed secrets... while deep within those Arkansas hills, something monstrous stirs, ready to feast on village whispers.
In his triumphant return to solo cartooning, #1 New York Times bestseller Nate Powell presents a haunting tale of intimacy, guilt, and collective amnesia. -- a 272-page, full-color hardcover graphic novel, 6.5" x 9.5"
MORE PRAISE FOR NATE POWELL:
"A writer-artist of genius." — The Times (UK)
"The most prodigiously talented graphic novelist of his [generation]." — Booklist
"His layouts, his touch with shadow and darkness... Nate Powell can do it all." — The Oregonian
"Extraordinarily talented." — The Boston Globe
"Anything that Nate Powell writes and draws is pretty much a must-read." — Comics Alliance
"One of today's most gifted storytellers." — Scott Snyder, author of Batman and American Vampire
"[Powell] is a master of shadows and space… his exquisite camera movement is never less than interesting and always in sync with the story." — The Washington Post
SHIPPING JULY 2018!
Reviews
---
Related Titles