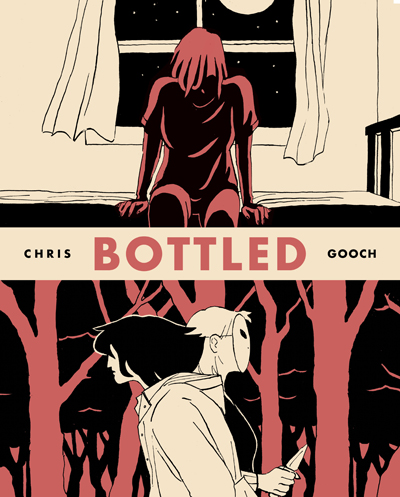 A finalist for the Ledger Award for excellence in Australian comics.
"Chris Gooch twists the knife in the gap between persona and self... Bottled is a slow burn of a comic where the betrayals and the dread cut deep." — Katie Skelly, author of Nurse Nurse and My Pretty Vampire
"Gooch lingers over camera lenses, the arc of a knife through space, the pause before someone makes a fateful decision, and other liminal moments in a life hurtling towards destruction.... Devastating." — Publishers Weekly (starred review)
"A haunting exploration of fame, friendship, and public image... a glimpse into the darkness that lies within each of us—in some cases, barely below the surface." — Under the Radar (Best of 2017)
What are friends for?
Jane is sick of her dead-end life in the suburbs and desperate for a change. Her old schoolmate Natalie made it out, working in Japan as a fashion model. Now, as Natalie comes back to town on business, Jane sees a way for her friend to do her a favor… whether she likes it or not. Young Australian cartoonist Chris Gooch debuts with a haunting portrait of millennial alienation, tinged with body horror and Greek tragedy, glamour and terror. -- a 288-page, 2-color softcover graphic novel with French flaps, 5.8" x 8.3" ("A5" size)
Reviews