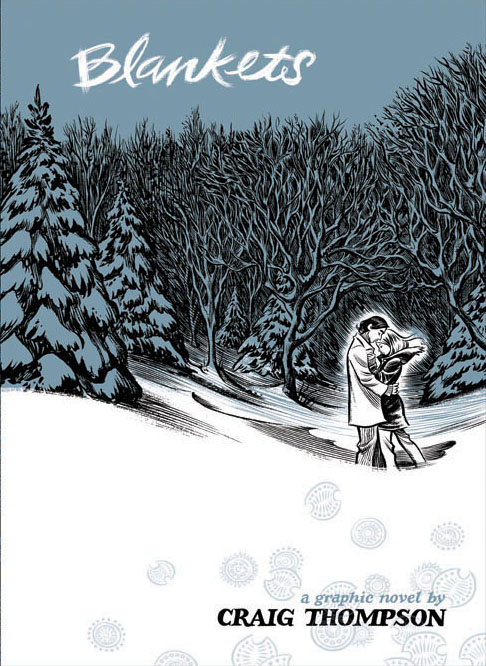 A BRAND NEW SOFTCOVER EDITION OF BLANKETS -- RESIZED & WITH A NEW COVER!
Winner of the Eisner, Harvey, and Ignatz Awards for Best Graphic Novel and Best Cartoonist.
"Thompson describes the ecstasy and ache of obsession (with a lover and with God)." -- The New York Times Book Review
"A rarity: a first-love story so well remembered and honest that it reminds you what falling in love feels like … achingly beautiful." -- Time Magazine
"Blankets is a great American novel." -- Andrew D. Arnold, Time.com
"Thompson manages to explore adolescent social yearnings, the power of young love and the complexities of sexual attraction with a rare combination of sincerity, pictorial lyricism and taste." -- Publishers Weekly
"This is a genuine graphic novel, with a universal appeal." -- Gordon Flagg, Booklist
"Thompson's expert blending of words and pictures and resonant silences makes for a transcending kind fo storytelling that grabs you as you read it and stays with you after you put it down. I'd call that literature." -- Jules Feiffer
"Moving, tender, beautifully drawn, painfully honest, and probably the most important graphic novel since Jimmy Corrigan." -- Neil Gaiman
Wrapped in the landscape of a blustery Wisconsin winter, Blankets explores the sibling rivalry of two brothers growing up in the isolated country, and the budding romance of two coming-of-age lovers. A tale of security and discovery, of playfulness and tragedy, of a fall from grace and the origins of faith. A profound and utterly beautiful work. -- 592 pages, 7" x 9", Diamond: STAR19060
IN PRINT! BUT NEW PRINTING SHIPPING APRIL 2014!
Reviews
---
Related Titles