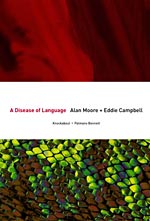 The Birth Caul and Snakes & Ladders, Alan Moore's visionary, highly personal magic based performance art pieces as adapted by Eddie Campbell, are collected together for the first time ever in A Disease of Language. Along with an insightful and expansive interview with Moore conducted by Campbell, the creators of the multi-award winning From Hell, present an insight into the world of comics' most revered author. Challenging, revealing, and totally captivating, A Disease of Language is for anyone with an interest in art, magic, history, love, sex, life & death, and everything in between. -- A 160-page hardcover volume published by Knockabout Palmano Bennett (UK), subdistributed by Top Shelf.
Reviews
---
Related Titles
Mobile Site Go to Full Site
Top Shelf Productions® and the
Top Shelf logo are registered trademarks of
Top Shelf Productions, Inc. All rights reserved.