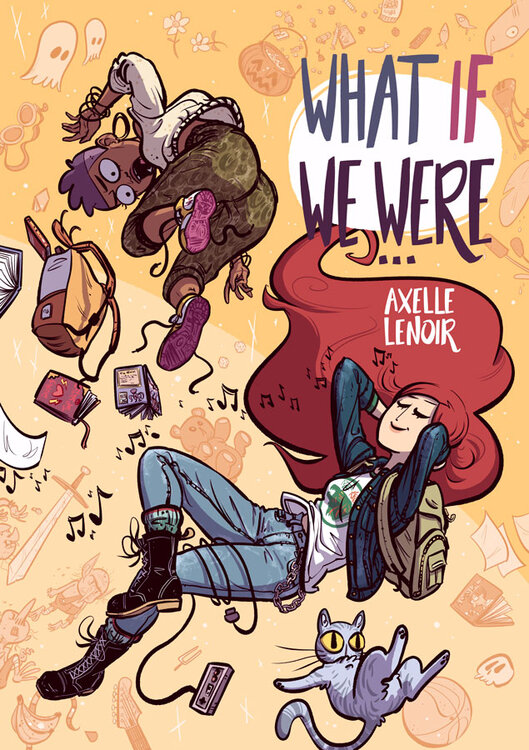 Teen girls rewrite the universe on a daily basis! This comic collection proves there's nothing better than using your imagination... except maybe talking nonsense with your friends. Hey, why not both?
"Axelle Lenoir has a remarkable talent for capturing adolescence... her female characters, here as in Camp Spirit, are completely credible, and avoid the usual clichés. They're both fragile and strong, shy and extroverted, made of paradoxes." — Sophie Lit
"The concept is original and really well explored... plus the drawing is great! The characters are funny, yet believable - and always fabulously dressed. I really want these two girls to be my best friends!" — Chronicles of a Book Addict
Nathalie and Marie are 17 years old and best friends. Since elementary school, they've been creatively filling moments of boredom with a game called "What If We Were...?". One player names a topic — let's say "vampire slayers" for example — and then both imagine what life would be like as that subject. "I would only hunt vampires during daytime, because it would be less exhausting" would be a good answer. "I would only hunt them for sport, to eventually sell their skins" could be another, if a little disturbing.
Easy to play, but hard to master. An expert player will know how to think outside the box and surprise their opponent. And after all these years, Nathalie and Marie are experts!
What If We Were… collects dozens of these games as hilarious and addictive comic strips, along with super-fun bonus material like diary entries, bonus comics, and more. -- an 88-page, full-color graphic novel with French flaps (7" x 10")
---
Related Titles