Rob Harrell
Rob Harrell is not a monster, but he does live on a hill. Born and raised in Bloomington, Indiana, he created, wrote, and drew the daily comic strip Big Top, which was syndicated internationally from 2002-2007 and collected into a book by Andrews McMeel. Currently he draws the popular strip Adam@Home, appearing in over 140 papers worldwide. His paintings have been mounted at galleries across the country, and his illustration clients include Mad Magazine, Simon & Schuster, American Greetings, Time Inc., and Volkswagen. He lives in Austin, Texas with his wife and their dogs.
Visit him online at www.robharrell.com.
Reviews & Interviews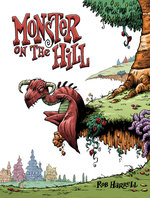 by Rob Harrell
"Really fun, goofy, extremely silly fantasy for readers of all ages, crying out for reviewers and critics to make appalling puns of the 'monstrously good' variety." -- Neil Gaiman
"Rob Harrell has jumped the fence from comic strips to graphic novels with ease, and brought with him wit, strong …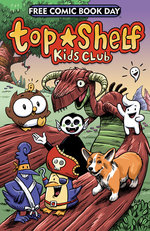 by Ray Friesen and Rob Harrell and James Kochalka and Andy Runton and Christian Slade and Jess Smart Smiley
A TOP SHELF KIDS CLUB COMIC BOOK!
by Andy Runton, James Kochalka, Christian Slade, Ray Friesen, Jess Smart Smiley, & Rob Harrell
Cover by Rob Harrell
Here at Top Shelf, we're celebrating FREE COMIC BOOK DAY 2013 with friends old and new -- the latest lineup of the Top Shelf Kids Club! This …