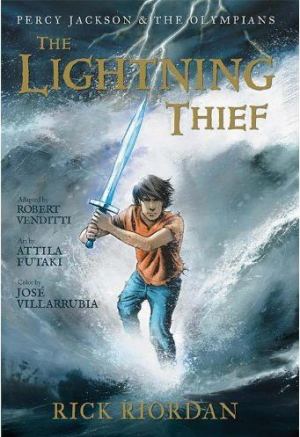 The first book in the blockbuster graphic-novel series, written by our very own Robert Venditti!
Mythological monsters and the gods of Mount Olympus seem to be walking out of the pages of twelve-year-old Percy Jackson's textbooks and into his life. And worse, he's angered a few of them. Zeus's master lightning bolt has been stolen, and Percy is the prime suspect. Now, he and his friends have just ten days to find and return Zeus's stolen property and bring peace to a warring Mount Olympus.
Series creator Rick Riordan joins forces with some of the biggest names in the comic book industry – our very own Robert Venditti, artist Attila Futaki and colored by Top Shelf family member, Jose Villarrubia -- to tell the story of a boy who must unravel a treachery more powerful than the gods themselves.
Published by Disney/Hyperion Books and available here at Top Shelf as well. -- A full-color softcover graphic novel, 128 pages, For Ages 9 - 12.
---
Related Titles