Jenn Jordan
Jenn Jordan is the co-author of Darwin Carmichael is Going to Hell and An Embarrassment of Witches, and is currently working on her doctorate in medieval history at SUNY Stony Brook. Her research focuses on women's movement, knowledge, and identity in medieval Italy. She lives in New York with her person, Steve, and two cats, Samantha and Robin.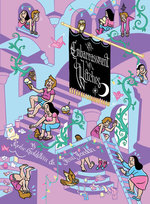 by Sophie Goldstein and Jenn Jordan
A coming-of-age urban fantasy set in a world full of animal familiars, enchanted plants, and spell-casting that explores the mundane horrors of breakups, job searches, and post-graduate existential angst.
Life after college isn't turning out exactly as Rory and Angela had planned. Rory, …
$19.99 (US)
Details
ISBN 978-1-60309-462-7 - Diamond: OCT190846