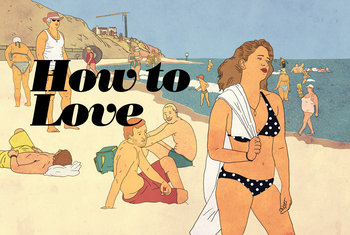 "Actus' art is beautiful and the narratives evoke the complex mix of isolation, humor and quite unease these artists have become known for." -- Publishers Weekly
"The first new Actus book since 2004's Dead Herring, How to Love demonstrates that there's no keeping a great Israeli comics collective down. ... Another beautiful little Actus book." -- Bart Beaty, comicsreporter.com
In this funny and touching collection of stories by the artists of Actus Independent Comics, HOW TO LOVE beautifully explores some of the more unconventional facts of love. Packaged within this handsome, full-color hardcover are six gorgeous and provocative stores (detailed below). -- Full-Color Hardcover, 144 Pages, 9 1/2" x 7" (landscape), Published by Actus Independent Comics (Distributed by Top Shelf)
-- SUMMER STORY by Batia Kolton. A twelve years old girl admires her teenage neighbor with all her heart. The two girls go on a summer beach trip, but everything changes when she finds out that her idol is there for the boys rather than the sun.
-- L'ELIXIR D'AMOUR by David Polonsky. During a night full of delights an old Baron tells his young mistress amazing stories about love and lust, and finally reveals his secret elixir of love.
-- INDEPENDENCE DAY by Mira Friedmann. Set against the turbulent backdrop of Jerusalem in 1966, Nily, a young girl who's secretly in love with Benny, embarks on a heroic act to prove her love to the most popular boy in her class.
-- LOVE LOVE LOVE by Itzik Rennert. The banal yet surprising , funny yet sad, history of the love life of someone who is every one and no one, in twenty two short chapters .Love hurts, love prevails.
-- YOUR NUMBER ONE FAN by Rutu Modan. An Israeli gets his first big chance at fame when he's invited to show in Sheffield, England. As he gets there, he finds that things are not exactly as glamorous as he expected.
-- 8 TO 10 by Yirmi Pinkus. A graphic diary describing one spring morning in Tel Aviv. As the author goes on with his everyday morning errands, life around his apartment run their own joyful and exuberant course.
Reviews
---
Related Titles