Future Releases
HERE'S THE DETAILS ON A FEW ITEMS THAT TOP SHELF HAS PLANNED FOR 2014 AND BEYOND!
by Steve Moore and Alan Moore
Splendid news for boys and girls, and guaranteed salvation for humanity! Messrs. Steve and Alan Moore, current proprietors of the celebrated Moon & Serpent Grand Egyptian Theatre of Marvels (sorcery by appointment since circa 150 AD) are presently engaged in producing a clear and practical grimoire …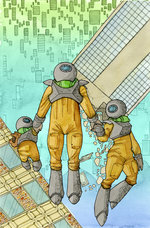 by Kate Glasheen and Nick Tapalansky
Noah's world is changing: gravity, a force everyone takes for granted, has begun to disappear. As a young journalist, Noah spends his days documenting the wondrous, strange, beautiful, and sometimes terrifying shifts in the world around him.
But Noah's life is changing, too. And between …