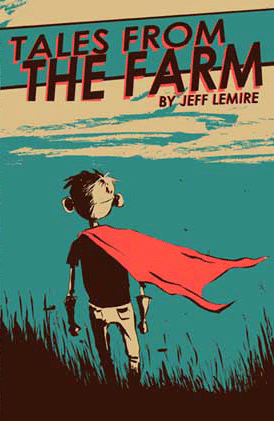 JEFF LEMIRE'S ESSEX COUNTY IS THE:
-- WINNER OF THE AMERICAN LIBRARY ASSOCIATION/YALSA "ALEX AWARD" -- THE PRIZE THAT RECOGNIZES ADULT BOOKS WITH SPECIFIC TEEN APPEAL!
-- WINNER OF THE SHUSTER AWARD FOR OUTSTANDING CANADIAN COMIC BOOK CARTOONIST (WRITER/ARTIST)!
-- WINNER OF THE DOUG WRIGHT AWARD FOR CANADIAN CARTOONING'S BEST EMERGING TALENT!
-- NOMINEE FOR ONE HARVEY & TWO EISNER AWARDS!



"Books like this are the reason alternative comics publishers such as Top Shelf exist. Lemire uses an utterly personal, idiosyncratic drawing style, rough but completely clear, that even just-off-mainstream publishers would insist on gussying up for publication. And the simple story's slice-of-life lyricism, sparked by magic realism, is way too arthouse-movie-ish for the mainstream. But lordy, does it work!" -- Ray Olson, Booklist
"Lemire's writing nails that complicated mixture of anger and sadness that comes with losing a loved one. His black-and-white illustrations work equally well, using rough and chunky lines to powerfully re-create the solitary nature of farm life and Lester's vivid imagination. Teens will love the humor in Lester's odd imagination and will be touched by the heart of a book that delivers a compelling look at tragedy and how to move on after it strikes." --School Library Journal
"Jeff Lemire's Tales From The Farm is one of the best books I read last year and I'm glad to see that it's finally coming out through a publisher that consistently brings interesting new talent to the fore. Lemire's going to go places and I'm glad to get to watch him rise." -- beaucoupkevin.com
In ESSEX COUNTY (VOL 1): TALES FROM THE FARM, Lemire illustrates the tale of Lester, a recently orphaned 10-year-old who goes to live on his Uncle's farm. Their relationship grows increasingly strained and Lester befriends the town's hulking gas station owner, Jimmy Lebeuf. The two escape into a private fantasy world of Superheroes, Alien Invaders and good old-fashioned pond Hockey. TALES FROM THE FARM is the first volume in a trilogy of graphic novels set in a fictionalized version of Lemire's hometown of Essex County, Ontario. -- A 112-Page Graphic Novel, 6 1/2" x 9"
Check out the video trailer here: TFTF Trailer.
And check out this cool webcast where TFTF is discussed:
The Comic Book Syndicate.
OUT OF STOCK, BUT YOU CAN NOW PURCHASE THE COMPLETE ESSEX COUNTY!

Reviews
---
Related Titles